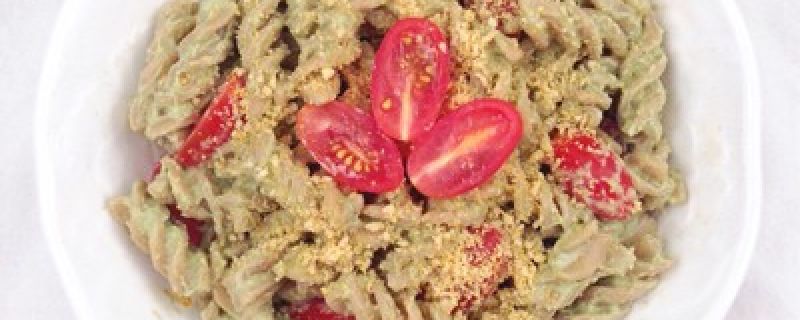 Ingredients:
2 cloves garlic
1⁄4 cup walnuts
1 packed cup fresh spinach
1⁄2 packed cup fresh basil
1 ripe avocado
1 tablespoon lemon juice
2 tablespoons nutritional yeast
3⁄4 cup cold vegetable broth
1⁄2 teaspoon salt
Pinch of pepper
1 lb whole wheat pasta (any shape), cooked
1 cup grape tomatoes, halved
Instructions:
In a blender, add garlic and walnuts and pulse until the mixture is crumbly. Add spinach, basil, flesh from avocado, lemon juice, nutritional yeast, vegetable broth, salt, and pepper and blend until smooth. Taste for seasoning and adjust as necessary. Toss pasta with the pesto until it is fully coated. Mix in cherry tomatoes.
Yields: 8 servings
Per serving: 265 calories, 10 g protein, 46.5 g carbohydrates, 7.3 g fiber, 2 g sugars, 6.8 g fat, 0.9 g saturated fat, 0 g trans fat, 0 mg cholesterol, 190.3 mg sodium, 34.3 mg calcium, 0 g omega-3 fats, 623.4 IU vitamin A, 6.2 mg vitamin C, 0.6 mg vitamin E, 2.6 mg iron, 2 mg zinc