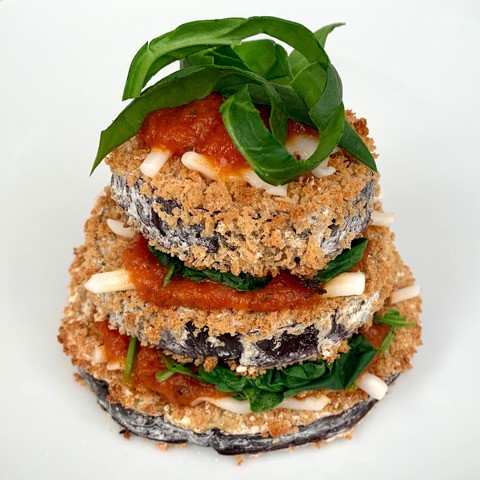 Recipe:
Eggplant parm may seem deceivingly healthy because the dish is based on a vegetable. But in classic eggplant parmesan recipes, eggplant is fried and then covered in cheese. In this lighter version, eggplant is breaded with a crunchy whole grain coating and then baked until crispy. Eggplant slices are then layered with tomato sauce, spinach, and just enough melty cheese.
The recipe captures the flavors and textures of traditional eggplant parm while cutting down on the oil and adding more nutritional value. Whole wheat flour and whole wheat breadcrumbs provide fiber, which may aid in weight loss due to its filling effect. Spinach is high in the antioxidants lutein and zeaxanthin, which help keep eyes clear and bright.
Ingredients:
1 large eggplant, sliced into ½ inch lengthwise slices
½ cup whole wheat flour
3 egg whites, beaten lightly with a fork
2 cups whole wheat panko or breadcrumbs
1 teaspoon extra virgin olive oil
4 oz baby spinach
2 cups marinara sauce
1 cup part-skim shredded mozzarella cheese
Optional: fresh basil for topping
Instructions:
First, set up a dredging station — have sliced eggplant on one plate, flour on a separate plate, egg whites in a separate bowl, and breadcrumbs on a separate plate.
Preheat the oven to 400 degrees Fahrenheit and line two baking sheets with parchment paper. Using one hand, coat a slice of eggplant with the flour. Using the other hand, dip the eggplant in the egg whites. Using the dry hand again, coat the eggplant slice with breadcrumbs and place on prepared baking sheet. Repeat with the remaining eggplant slices. Bake for 20 minutes.
While the eggplant bakes, add oil to a large pan and heat over medium heat. Add spinach and sauté for a few minutes until the spinach is wilted. Remove from heat and set aside.
Once the eggplant finishes baking, remove from the oven. Top each eggplant slice with a spoonful of marinara and a sprinkle of cheese and return to the oven for another 5 minutes to melt cheese. Layer 3 slices of eggplant with the cooked spinach into a stack and top with basil if desired. Repeat for the remaining eggplant slices.
Yields 4 servings
Per serving: 404 calories, 21.2 g protein, 59.4 g carbohydrates, 12.4 g fiber, 12.6 g sugars, 10.5 g fat, 3.8 g saturated fat, 0 g trans fat, 21 mg cholesterol, 877 mg sodium, 277 mg calcium, 0.2 g omega-3 fats, 2916 IU vitamin A, 13.7 mg vitamin C, 4 mg vitamin E, 4.3 mg iron, 1.9 mg zinc