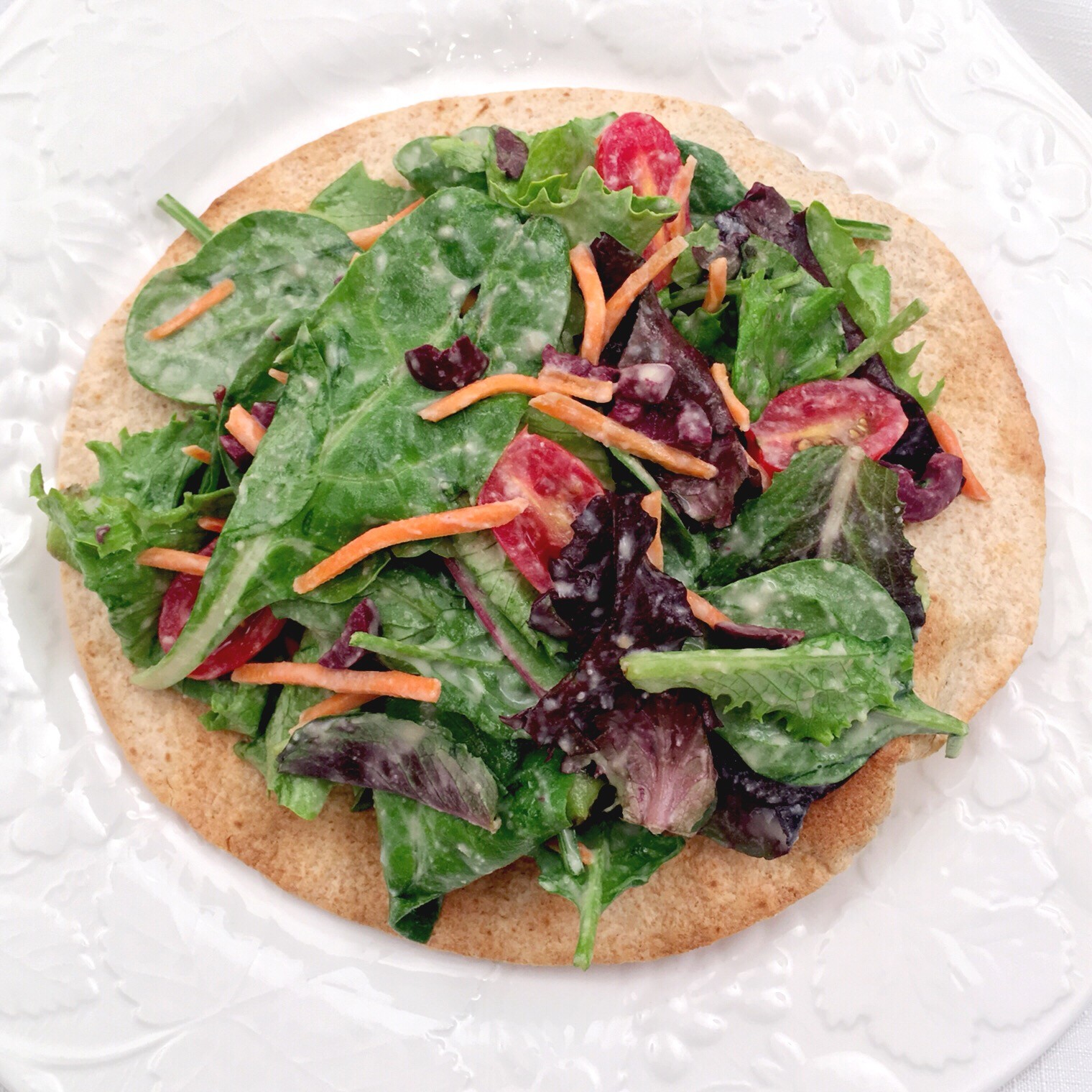 Recipe:
Ingredients:
1 medium whole wheat tortilla
2 tablespoons hummus
1 tablespoon lemon juice
Pinch garlic powder
1 cup spring green salad mix
1⁄4 cup grape tomatoes, sliced in half
2 tablespoons shredded carrots
2 tablespoons chopped kalamata olives (about 4 olives)
Instructions:
Toast tortilla at 400 degrees Fahrenheit for 4-6 minutes, until crispy and slightly browned. In a large bowl, mix together hummus, lemon juice, and garlic powder. Add a few teaspoons of water to thin if you prefer a thinner dressing. Toss the spring mix, tomatoes, carrots, and olives with the dressing. Place the salad on top of the tortilla and slice into four pieces.
Note: The hummus dressing is a nice creamy, garlicky, lemony dressing that could go well in many other salads as well
Yields: 1 serving
Per serving: 261 calories, 7.34 g protein, 32.46 g carbohydrates, 6.4 g fiber, 2.23 g sugars, 12.54 g fat, 1.51 g saturated fat, 0 g trans fat, 0 mg cholesterol, 689.44 mg sodium, 102.75 mg calcium, 0 g omega-3 fats, 3458 IU vitamin A, 15.9 mg vitamin C, 0.02 mg vitamin E, 1.97 mg iron, 0.01 mg zinc