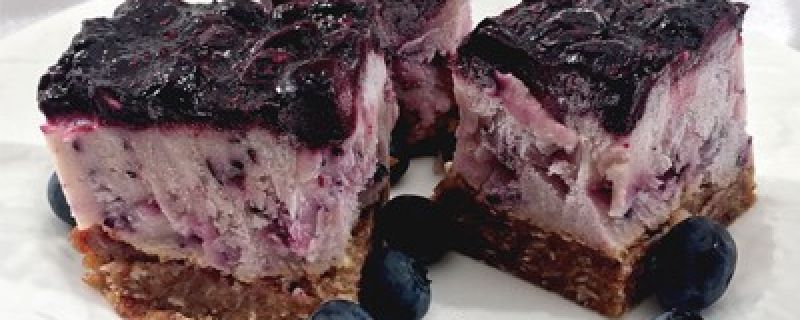 Ingredients:
For the crust layer:
1⁄2 cup rolled oats
1⁄2 cup walnuts
1⁄2 teaspoon cinnamon
1⁄4 teaspoon salt
1⁄2 cup pitted medjool dates, chopped
1⁄2 teaspoon vanilla extract
For the frozen yogurt layer:
1 cup plain nonfat Greek yogurt
1 small ripe banana
1⁄2 cup fresh or frozen blueberries
1⁄2 tablespoon maple syrup
1⁄2 teaspoon vanilla extract
For the blueberry pie topping:
2 cups fresh or frozen blueberries
1 tablespoon lemon juice
1 tablespoon maple syrup
2 teaspoons cornstarch, dissolved in 2 tablespoons water to make a "slurry"
Instructions:
Line a 7×11 inch pan with parchment paper. In a food processor or high-speed blender, blend oats, walnuts, cinnamon, and salt until a coarse meal forms. Add in dates and vanilla and blend until the mixture forms together, almost like a dough. Press this mixture into an even layer at the bottom of the lined pan.
In a blender or food processor, combine yogurt, banana, blueberries, maple syrup, and vanilla extract and blend until smooth. Pour this mixture over the crust layer and place in the freezer while you make the next layer.
In a small pot, combine blueberries, lemon juice, maple syrup, and cornstarch "slurry". Bring to a boil and then reduce heat to medium. Simmer until blueberries have cooked and mixture has thickened slightly, about 5-7 minutes. Let cool. Once cooled, spread this mixture over the yogurt layer of the bars. Return to the freezer and freeze overnight, or for at least 6 hours. When ready to serve, let defrost for 5-10 minutes, and then slice into 8 bars.
Yields: 8 servings
Per serving: 164 calories, 5.3 g protein, 26.4 g carbohydrates, 3.4g fiber, 16.9 g sugars, 5.4 g fat, 0.6 g saturated fat, 0 g trans fat, 1.9 mg cholesterol, 83.5 mg sodium, 56.87 mg calcium, 0 g omega-3 fats, 55.76 IU vitamin A, 6.5 mg vitamin C, 0 mg vitamin E, 0.7 mg iron, 0.1 mg zinc