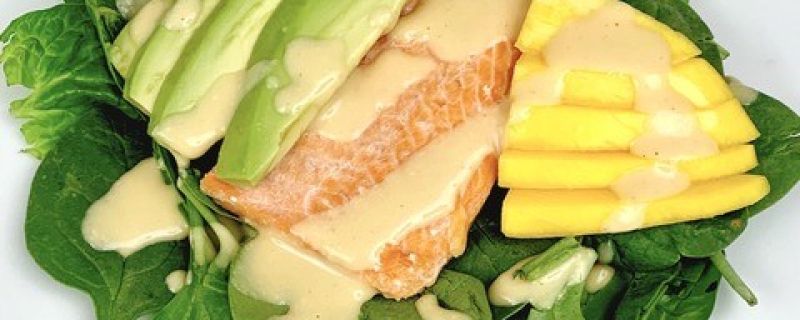 Ingredients:
For the salad:
1 lb salmon
1 tablespoon lemon juice
1⁄4 teaspoon salt
8 cups baby spinach
1 ripe avocado, pitted and chopped
1 large ripe mango, peeled and chopped
For the lemon dressing:
1⁄4 cup lemon juice
1 tablespoon Dijon mustard
1 teaspoon honey
1⁄2 tablespoon extra virgin olive oil
Pinch of salt
Instructions:
Preheat the oven to 375 degrees Fahrenheit. Place salmon in a baking dish and top with lemon juice and salt. Bake for 25-30 minutes, until cooked through. Once salmon has cooled, break it apart into bite-sized flakes.
In a small bowl, whisk together all dressing ingredients. In a large bowl, add spinach, flaked salmon, avocado, mango, and dressing. Mix to combine.
Yields: 4 servings
Per serving: 323 calories, 26.6 g protein, 22.3 g carbohydrates, 6.4 g fiber, 13.3 g sugars, 14.5 g fat, 2.2 g saturated fat, 0 g trans fat, 62 mg cholesterol, 414 mg sodium, 135 mg calcium, 2.5 g omega-3 fats, 8339 IU vitamin A, 73 mg vitamin C, 1.5 mg vitamin E, 4.9 mg iron, 1.1 mg zinc