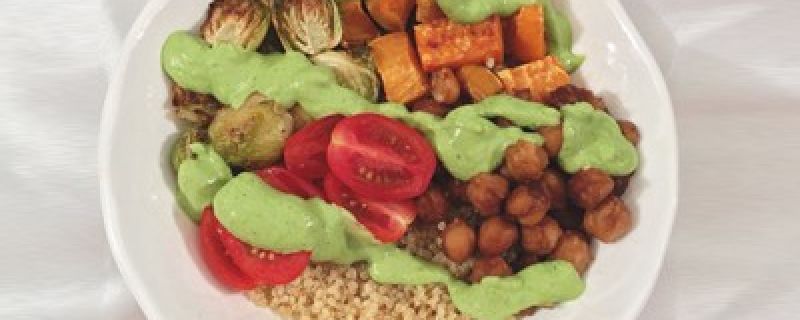 Ingredients:
1 cup dry quinoa
2 cups vegetable broth
2 large sweet potatoes, peeled and chopped
2 cups Brussels sprouts, halved
1 tablespoon extra virgin olive oil
Pinch of salt and pepper
1 15 oz can chickpeas, drained and rinsed
1 tablespoon soy sauce
1 cup grape tomatoes, halved
For the Green Goddess Dressing:
2 tablespoons tahini
1 tablespoon lemon juice
1 teaspoon red wine vinegar
1 small clove garlic, peeled
1⁄2 tablespoon agave nectar
3 tablespoons chopped chives
2 tablespoons chopped cilantro
1⁄8 teaspoon salt
1-2 tablespoons of water
Instructions:
Add quinoa and vegetable broth to a small pot and bring to a boil. Lower the heat to medium-low and cook for 20-25 minutes, until all of the water has been absorbed.
Preheat oven to 400 degrees Fahrenheit. Toss the sweet potatoes and Brussels sprouts with the olive oil, salt, and pepper. Line a baking sheet with parchment paper and place the sweet potatoes and Brussels sprouts on the baking sheet in one layer. Bake for 20-25 minutes, or until golden brown.
In a medium pan, add chickpeas and soy sauce. Heat over medium heat and stir until all of the liquid in the pan has evaporated. Remove from heat.
In a blender, combine all of the dressing ingredients and blend until smooth. Add more water to thin it out, if necessary.
To serve, divide the quinoa, roasted Brussels sprouts and sweet potato, chickpeas, and tomatoes between four bowls. Drizzle each bowl with a few spoonfuls of the dressing.
Yields: 4 servings
Per serving: 430 calories, 15.4 g protein, 72.44 g carbohydrates, 12.2 g fiber, 12.6 g sugars, 11 g fat, 1.2 g saturated fat, 0 g trans fat, 0 mg cholesterol, 760.9 mg sodium, 99.5 mg calcium, 0.1 g omega-3 fats, 9949.4 IU vitamin A, 46.7 mg vitamin C, 0.8 mg vitamin E, 3.8 mg iron, 0.8 mg zinc