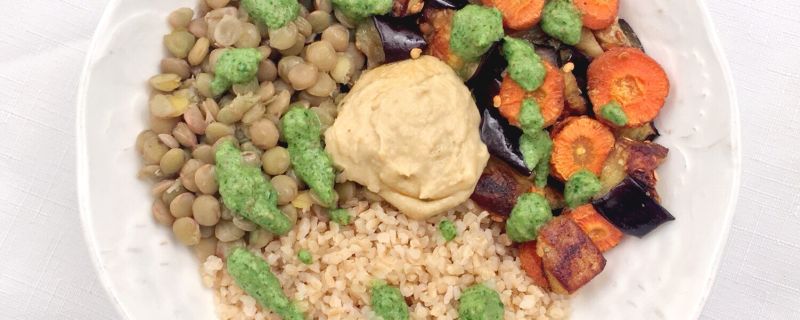 Ingredients:
For the bowl:
2 cups dry bulgur wheat, cooked
1 cup dry green lentils, cooked
1 medium-sized eggplant, chopped
4 large carrots, sliced
1 tablespoon extra virgin olive oil
1 teaspoon ground cumin
1⁄2 teaspoon garlic powder
Pinch salt
1⁄4 cup hummus
For the parsley almond pesto:
1⁄4 cup almonds
1 cup fresh parsley leaves
1 clove garlic
1 tablespoon lemon juice
1⁄4 teaspoon salt
Instructions:
Preheat oven to 425 degrees Fahrenheit. Line a baking sheet with parchment paper. Toss carrots and eggplant with olive oil, cumin, garlic powder, and salt and spread in one layer on prepared baking sheet. Bake for 25-30 minutes, until tender and browned.
In a blender or food processor, combine almonds, parsley, garlic, lemon juice, and salt with 1⁄4 cup water. Blend until pureed, adding more water if necessary.
Divide bulgur wheat, lentils, and roasted carrots and eggplant between four bowls. Top each bowl with 1 tablespoon hummus and a drizzle of pesto.
Yields: 4 servings
Per serving: 441 calories, 19 g protein, 68.34 g carbohydrates, 16.7 g fiber, 12.66 g sugars, 11.47 g fat, 1.25 g saturated fat, 0 g trans fat, 0 mg cholesterol, 313 mg sodium, 114 mg calcium, 0.03 g omega-3 fats, 14817 IU vitamin A, 33.35 mg vitamin C, 2.6 mg vitamin E, 5.5 mg iron, 1.37 mg zinc