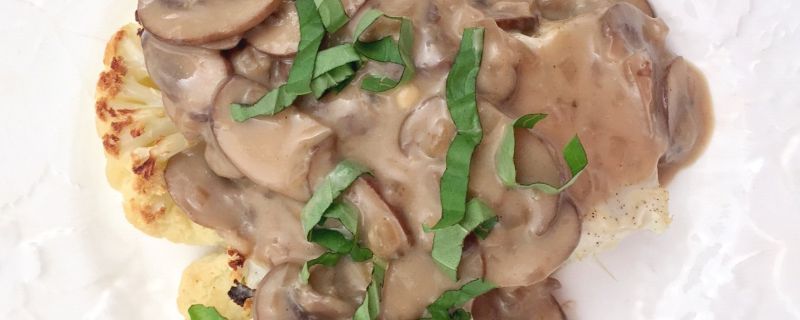 Ingredients:
1 large head cauliflower
1 1⁄2 tablespoons extra virgin olive oil, divided
1 teaspoon salt, divided
1⁄4 teaspoon pepper, divided
1⁄4 teaspoon garlic powder
1 cup chopped shallots
1 clove garlic, minced
8 ounces cremini mushrooms, sliced
1 tablespoon all-purpose flour
1 1⁄2 cups unsweetened almond milk
Optional fresh herbs to garnish
Instructions:
Preheat oven to 450 degrees Fahrenheit and line a baking sheet with parchment paper.
Remove outer leaves from cauliflower and trim the stem. Slice lengthwise into four slices, about 1 inch each, making sure that each slice is connected to the stem (this will hold it together). Place cauliflower slices on prepared baking sheet and drizzle with 1⁄2 tablespoon of the olive oil. Sprinkle with 1⁄2 teaspoon salt, 1⁄8 teaspoon pepper, and the garlic powder. Bake for around 40 minutes, until cauliflower slices are tender and browned lightly.
In a medium-sized pan, heat remaining 1 tablespoon olive oil over medium-low heat. Add the shallots and sauté until golden brown. Add in the fresh garlic and sauté for another 30 seconds. Add in the mushrooms and sauté until softened. Sprinkle in the flour and mix to coat the mushrooms evenly. Raise heat to medium-high and add in almond milk in 1⁄2-cup increments.
After each addition of almond milk, stir and allow to cook until thick and bubbly before adding the next addition. Mix in remaining 1⁄2 teaspoon salt and 1⁄8 teaspoon pepper and remove from heat. Pour 1⁄4 of the mushroom sauce over each cauliflower steak and top with fresh herbs if desired.
Yields: 4 servings
Per serving: 158.39 calories, 7 g protein, 21.83 g carbohydrates, 6.3 g fiber, 8.21 g sugars, 6.88 g fat, 1.04 g saturated fat, 0 g trans fat, 0 mg cholesterol, 716.59 mg sodium, 242.46 mg calcium, 0.03 g omega-3 fats, 190 IU vitamin A, 104.66 mg vitamin C, 2.75 mg vitamin E, 1.83 mg iron, 1.93 mg zinc