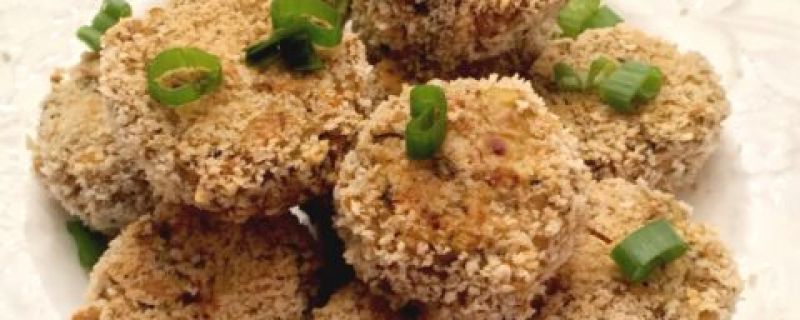 Ingredients:
1 15 oz can chickpeas, rinsed and drained
1 15 oz can artichoke hearts in water or brine (not oil), rinsed, drained and roughly chopped
1 sheet nori, pulsed into fine crumbs in a food processor or chopped finely
2 tablespoons capers
3 scallions, sliced
2 cloves garlic, minced
7 oz silken tofu, blended until smooth
2 teaspoons Dijon mustard
2 teaspoons Old Bay seasoning
3⁄4 cup panko breadcrumbs
Instructions:
In a large bowl, mash chickpeas roughly until only a few chunks remain. Stir in chopped artichoke hearts, nori flakes, capers, scallions, and garlic until everything is evenly distributed. Next, stir in blended tofu, mustard, and Old Bay seasoning.
Preheat oven to 350 degrees Fahrenheit and line a baking sheet with parchment paper. Place panko in a small bowl. Scoop out a golf ball-sized mound of the chickpea-artichoke mixture, roll into a ball, coat in panko, and place on baking sheet. Repeat for the rest of the mixture. Bake for 40 minutes, flip, and bake another 10-15 minutes until golden brown.
Per serving (2 "crab cakes"): 88 calories, 4.6 g protein, 14.44 g carbohydrates, 2.7 g fiber, 2 g sugars, 1.2 g fat, 0.1 g saturated fat, 0 g trans fat, 1.7 mg cholesterol, 274 mg sodium, 46 mg calcium, 0.01 g omega-3 fats, 368 IU vitamin A, 3 mg vitamin C, 0.1 mg vitamin E, 1 mg iron, 0.2 mg zinc
Yields 10 servings (2 cakes per serving)