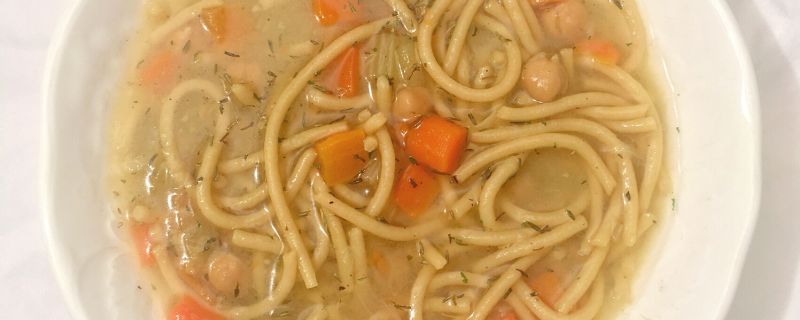 Ingredients:
1 teaspoon extra virgin olive oil
2 large yellow onions, chopped
4 carrots, chopped
4 celery stalks, chopped
6 cloves garlic, minced
1 1⁄2 teaspoons dried thyme
1⁄4 teaspoon saffron threads
1 15 oz can chickpeas, rinsed and drained
8 oz whole wheat spaghetti, or other long shape of pasta
6 cups vegetable broth
Instructions:
In a medium-sized pot, heat olive oil over medium-high heat. Add onion, carrots, and celery and sauté until vegetables soften. Add garlic, thyme, and saffron and sauté for another minute. Add vegetable broth, cover pot, and raise heat to high. Once the soup is boiling, reduce heat to medium and simmer, covered, for 30 minutes. Add chickpeas and noodles and cook for another 8-10 minutes. Serve immediately.
Yields: 6 servings
Per serving: 249 calories, 9.68 g protein, 49 g carbohydrates, 8.53 g fiber, 7.92 g sugars, 3.02 g fat, 0.4 g saturated fat, 0 g trans fat, 0 mg cholesterol, 460.17 mg sodium, 65.25 mg calcium, 0.05 g omega-3 fats, 8020.24 IU vitamin A, 8.11 mg vitamin C, 0.33 mg vitamin E, 2.5 mg iron, 1.51 mg zinc