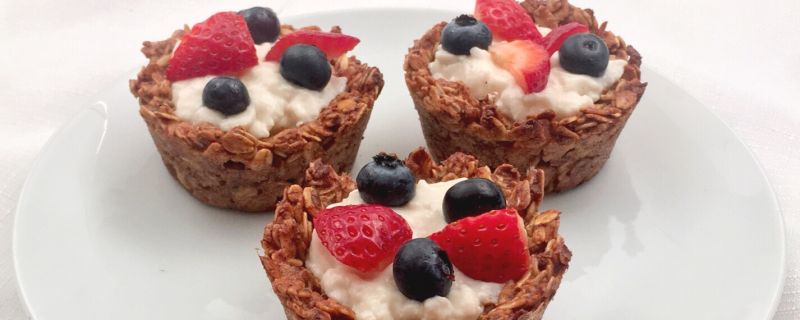 Ingredients:
1⁄4 cup maple syrup
1⁄4 cup almond butter
1 large ripe banana, mashed
1 1⁄2 teaspoons ground cinnamon
1 1⁄2 teaspoons vanilla extract
1⁄4 teaspoon salt
2 tablespoons ground flaxseed
2 cups rolled oats
1 1⁄4 cups nonfat vanilla Greek yogurt
1⁄2 cup fresh blueberries
1⁄2 cup sliced strawberries
Instructions:
Preheat oven to 350 degrees Fahrenheit. In a large bowl, mix maple syrup, almond butter, mashed banana, cinnamon, vanilla, and salt until combined. Stir in ground flaxseed and oats until combined.
Grease 10 cups of a 12-cup muffin tin or use a silicone muffin tin. Distribute the mixture evenly between 10 cups. Use a spoon to press the mixture to the sides of the muffin tin and leave a small well in the center. Bake for 30-35 minutes, until the cups are fully baked and slightly browned on the edges. Let cool completely and then remove from the muffin tin. Fill each cup with about 2 tablespoons of yogurt and a few blueberries and strawberry slices.
Yields: 5 servings (2 cups per serving)
Per serving: 338 calories, 12.43 g protein, 53.83 g carbohydrates, 7.4 g fiber, 23.08 g sugars, 9.25 g fat, 0.84 g saturated fat, 0 g trans fat, 0 mg cholesterol, 136 mg sodium, 130.6 mg calcium, 0.5 g omega-3 fats, 33 IU vitamin A, 12.36 mg vitamin C, 0.09 mg vitamin E, 2.2 mg iron, 0.3 mg zinc