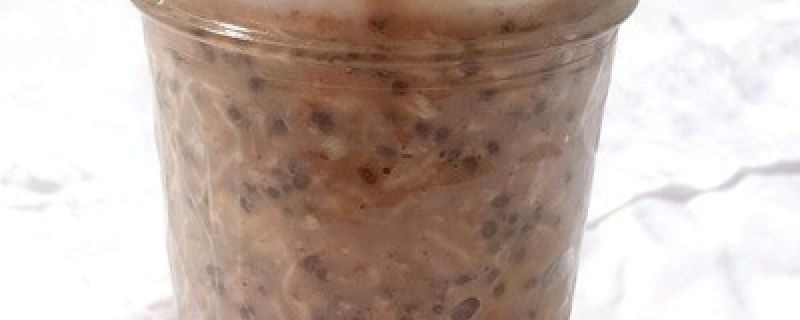 Ingredients:
1⁄2 cup rolled oats
1⁄2 teaspoon cinnamon, plus additional for sprinkling on top, optional
1⁄2 tablespoon brown sugar
1⁄4 teaspoon vanilla extract
1⁄2 cup oat milk
1⁄2 tablespoon chia seeds
1 shot espresso
2 tablespoons nonfat vanilla Greek yogurt
Instructions:
In a small mason jar or container, combine oats, cinnamon, brown sugar, vanilla, oat milk, chia seeds, and espresso. Refrigerate overnight to soak. Before serving, top with yogurt and a sprinkle of cinnamon, if desired.
Yields: 1 servings
Per serving: 293 calories, 11.2 g protein, 49.36 g carbohydrates, 8.84 g fiber, 12.58 g sugars, 6.32 g fat, 0.8 g saturated fat, 0 g trans fat, 0.92 mg cholesterol, 93.14 mg sodium, 112.46 mg calcium, 1.45 g omega-3 fats, 203.83 IU vitamin A, 0.05 mg vitamin C, 0.04 mg vitamin E, 2.42 mg iron, 0.17 mg zinc