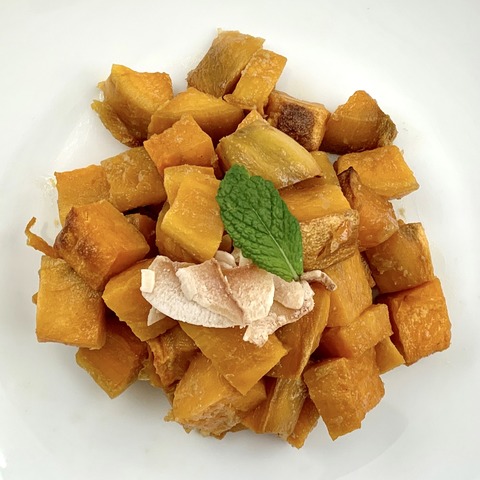 Recipe:
Sweet potatoes are one of my top ten beauty foods for their outstanding content of beta-carotene, which may help keep skin smooth and youthful. Roasting them in a coconut ginger glaze is a delicious way to protect your skin against damaging free radicals.
Ingredients:
3 large sweet potatoes (or 4 medium), peeled and chopped
½ cup canned full fat coconut milk
1 tablespoon fresh minced ginger
2 tablespoons brown sugar
Pinch salt
Instructions:
Preheat the oven to 425 degrees Fahrenheit and line a baking sheet with parchment paper.
In a small bowl, whisk together coconut milk, ginger, brown sugar, and salt. Toss the sweet potatoes with the glaze until evenly coated. Place sweet potatoes on the prepared baking sheet in an even layer and bake for 40-45 minutes, until soft and lightly browned.
Yields 6 servings
Per serving: 128 calories, 1.8 g protein, 22.2 g carbohydrates, 2.6 g fiber, 7.7 g sugars, 4.1 g fat, 3.6 g saturated fat, 0 g trans fat, 0 mg cholesterol, 77 mg sodium, 33 mg calcium, 0 g omega-3 fats, 12295 IU vitamin A, 2.3 mg vitamin C, 0.2 mg vitamin E, 1.2 mg iron, 0.4 mg zinc