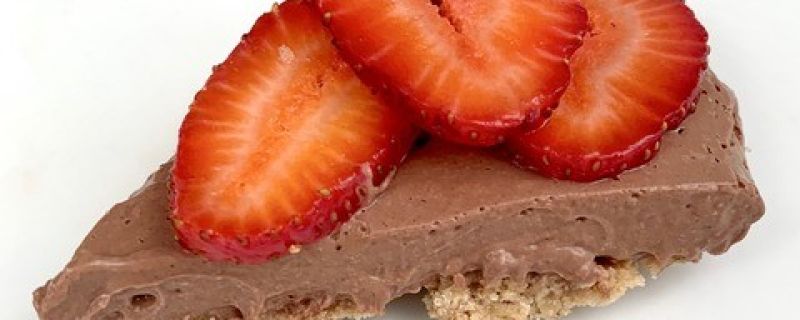 Ingredients:
1 cup rolled oats
1 cup walnuts
1⁄4 teaspoon salt
3 tablespoons maple syrup
1 16 oz package silken tofu, patted dry
1 teaspoon vanilla extract 3 tablespoons brown sugar
1 cup dark chocolate pieces
Optional: sliced strawberries for topping
Instructions:
Preheat the oven to 350 degrees Fahrenheit and lightly grease the bottom of a medium-size springform pan.
In a food processor, add oats, walnuts, and salt and process for a few seconds until a coarse flour forms and no large pieces of walnuts or oats remain. Transfer to a bowl and add maple syrup and mix — the dough should be crumbly. Press the mixture into the bottom of the pan and bake for 15 minutes, until firm in the center and slightly golden on the edges.
To a blender, add silken tofu, vanilla, and brown sugar and blend until smooth. Add chocolate to a bowl and microwave in 20 second intervals until fully melted. Add the chocolate to the blender with the tofu mixture and blend again until smooth (work quickly for this step to make sure you blend before the chocolate hardens again). Pour this mixture over the crust and cover the pan with plastic wrap. Place in the refrigerator overnight or at least for 4 hours to firm up before slicing and serving.
Yields: 12 servings
Per serving: 227 calories, 5.5 g protein, 23.5 g carbohydrates, 4.1 g fiber, 13.2 g sugars, 16 g fat, 5.5 g saturated fat, 0 g trans fat, 0 mg cholesterol, 50 mg sodium, 47 mg calcium, 0.9 g omega-3 fats, 0 IU vitamin A, 0.1 mg vitamin C, 0.1 mg vitamin E, 4.5 mg iron, 0.4 mg zinc