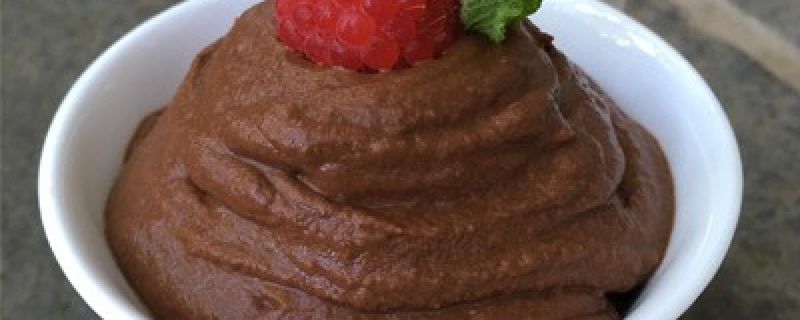 Ingredients:
2 cups cubed and peeled sweet potato, boiled (about one large sweet potato)
1⁄2 cup silken tofu
1⁄4 cup maple syrup or agave nectar
2 tablespoons cocoa powder
2 tablespoons almond milk
1.5 oz dark chocolate, at least 60% cacao
Instructions:
Combine sweet potato, silken tofu, maple syrup, cocoa powder, and almond milk in a high-speed blender or food processor. Melt dark chocolate in 15-second intervals in the microwave until it is fully melted, stirring between intervals. Add melted chocolate to the blender and blend once again.
Yields: 4 servings
Per serving: 208 calories, 4 g protein, 39 g carbohydrates, 4 g fiber, 24 g sugars, 5 g fat, 2 g saturated fat, 0 g trans fat, 0 mg cholesterol, 40 mg sodium, 104 mg calcium, 0 g omega-3 fats, 785 mcg vitamin A, 13 mg vitamin C, 1 mg vitamin E, 2 mg iron, 1 mg zinc