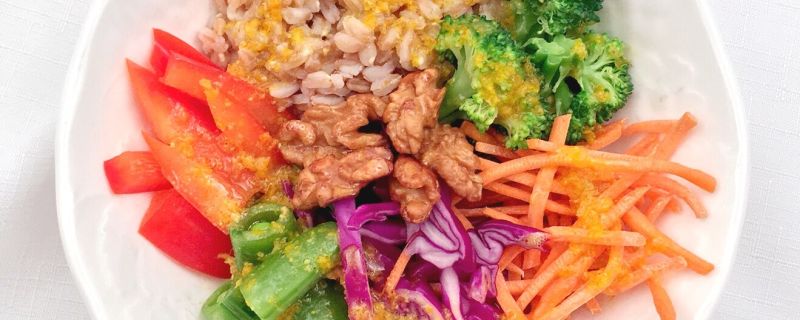 Ingredients:
1 cup dry farro, cooked
2 cups broccoli, cut into florets
2 cups shredded carrots
1 cup snap peas, chopped
2 cups shredded red cabbage
1 red bell pepper, chopped
1⁄3 cup walnut halves
1 tablespoon honey
For the orange vinaigrette:
1⁄4 cup fresh orange juice
1 tablespoon fresh orange zest
1 tablespoon extra virgin olive oil
1 tablespoon apple cider vinegar
1 tablespoon Dijon mustard
1 tablespoon minced shallot
1⁄4 teaspoon salt
Instructions:
Microwave the broccoli with a couple of tablespoons of water for 1-2 minutes, until it is bright green and still has a bit of crunch. Preheat oven to 350 degrees Fahrenheit and line a small baking sheet with parchment paper. In a small bowl, toss the walnuts with the honey until they are coated evenly. Place on baking sheet and bake for 7-8 minutes until caramelized and golden brown, checking to make sure they do not burn.
In a small bowl, whisk together orange juice, orange zest, olive oil, vinegar, Dijon mustard, shallot, and salt.
To assemble the bowls, divide the farro, broccoli, carrots, snap peas, cabbage, bell pepper, and honey-roasted walnuts between four bowls. Drizzle each bowl with about 2 tablespoons of the orange vinaigrette.
Yields: 4 servings
Per serving: 327 calories, 11 g protein, 50.63 g carbohydrates, 7.87 g fiber, 11.25 g sugars, 10.52 g fat, 1.2 g saturated fat, 0 g trans fat, 0 mg cholesterol, 306.65 mg