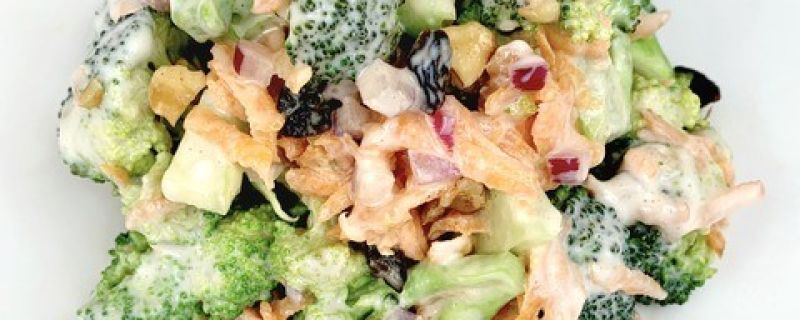 Ingredients:
For the salad:
2 large heads broccoli, cut into florets and steamed
1 cup shredded carrots
1⁄4 cup dried cherries
1⁄4 cup chopped walnuts, toasted
2 tablespoons minced red onion
For the creamy tofu "mayo" dressing:
12 oz silken tofu
1 tablespoon lemon juice
1 tablespoon apple cider vinegar
1 teaspoon Dijon mustard
1 teaspoon honey
1⁄2 teaspoon salt
Instructions:
In a large bowl, combine broccoli florets, shredded carrots, dried cherries, walnuts, and red onion.
In a blender, blend together all dressing ingredients. Pour dressing over salad and mix well to combine.
Yields: 4 servings
Per serving: 145 calories, 7.3 g protein, 15 g carbohydrates, 3.1 g fiber, 9 g sugars, 7.3 g fat, 0.8 g saturated fat, 0 g trans fat, 0 mg cholesterol, 349 mg sodium, 106 mg calcium, 0.8 g omega-3 fats, 2645 IU vitamin A, 57.3 mg vitamin C, 0.1 mg vitamin E, 1.6 mg iron, 0.5 mg zinc