Holiday Party Tips to Fight the Battle of the Bulge
Believe it or not, the holiday season may not be the most fattening time of year. One study involving about 200 adults found that we only gain about one pound on average during the period between Thanksgiving and New Years. But, we don't seem to lose that pound during the following spring and summer months, according to the study. So over the years, the pounds add up!  Check out my party-time tips to help you stay slim this holiday season.
HOLIDAY PARTY TIPS
Wear Your Favorite Outfit. Pick something you feel great in—a fitted sweater with a slimming pair of pants, or your favorite skirt and boots. Chances are, you'll be less inclined to overeat if you are wearing something you love. A great pair of jeans with a belt can do the trick too. (When you've had one bite too many, you'll feel it!)
Have a Small Snack Before You Go.  Choose a fruit, a low-fat Greek yogurt, an energy bar, or a small bowl of oatmeal.  Snacking before socializing will curb your hunger, and will make you less likely to overindulge later on. It will also allow you to make better decisions about what to eat, because you won't be ravenous.
Mingle One-On-One at Cocktail Hour. The fewer people around you, the less you eat, according to a study from Georgia State University. Specifically, a meal eaten with one other person tends to be 33% larger than a meal eaten alone. With two, it is 47% larger and with three, 58% larger.  If you can't control the amount of people around you, focus on the conversation instead of the food–you will be less likely to consume excess calories.
Watch the Nuts and Cheese. Nuts, including almonds, walnuts, cashews and macadamia nuts, are heart healthy, but can contain up to 400 calories per half cup! Cheese is caloric as well. Brie and Swiss have about 100 calories per ounce. Mozzarella is a bit lower in calories–about 80 calories per ounce. Stick to one small portion of each (1 cube of cheese; 1 small handful of nuts).
Fill Your Plate Up Once. And scan the entire spread before deciding what to eat.  It's better to be picky and spend your calories on foods that appeal to you the most.
Use Smaller Plates – and Smaller Serving Spoons. We are more likely to eat less when we use smaller plates, so go for lunch-sized plates if possible. Also when it comes to serving spoons, try using tablespoons instead of larger spoons. The bigger the serving spoon, the more likely we are to serve ourselves larger portions. You can also use a spoon to serve yourself gravy instead of pouring from a gravy boat.
Focus on Salads and Vegetable Dishes. My recommended "party plate": fill ½ the plate with vegetables (or salads with low-fat dressings). Then, fill the rest of the plate with small portions of protein and grains. If you can't resist some of the more indulgent options (sweet potato pie, perhaps!), limit your potion to 1/2 cup, which looks like half of a baseball.
Wait 20 Minutes Before Finishing Your Last Bites – or Sprinkle Your Plate with Salt and Pepper. It takes 20 minutes for your stomach to tell your brain it's had enough food, so pausing for this amount of time before finishing your plate (or running for seconds) can help you control how many calories you consume.  If waiting for this long seems like an eternity with delicious food staring you in the face, try sprinkling a lot of salt or pepper on your plate, which will make the food unappetizing.
Alternate Alcoholic Beverages with Seltzer, Diet Soda, or Water. This will keep you hydrated, and will help you cut calories from both alcohol and food, since we tend to eat more when we drink.
And don't forget to exercise over the next few weeks!  Exercise will help to offset some of the extra holiday calories, as well as reduce stress during this time of year.  If you are not a fan of the gym, head out for a brisk walk with your iPod, or hit the dance floor at your next holiday party (that will help you limit your calories as well—it's tough to eat and dance at the same time!)
About the Author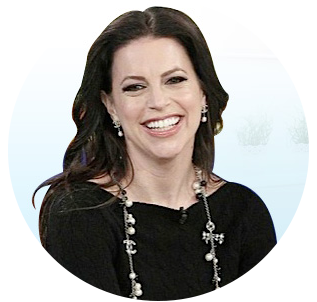 Lisa Drayer, M.A., R.D., is a nationally known nutritionist and health journalist. She has been a contributor to CNN and is the author of THE BEAUTY DIET: Looking Great Has Never Been So Delicious (McGraw-Hill) and STRONG, SLIM, and 30! Eat Right, Stay Young, Feel Great and Look FABULOUS (McGraw-Hill). For more information, visit www.lisadrayer.com.