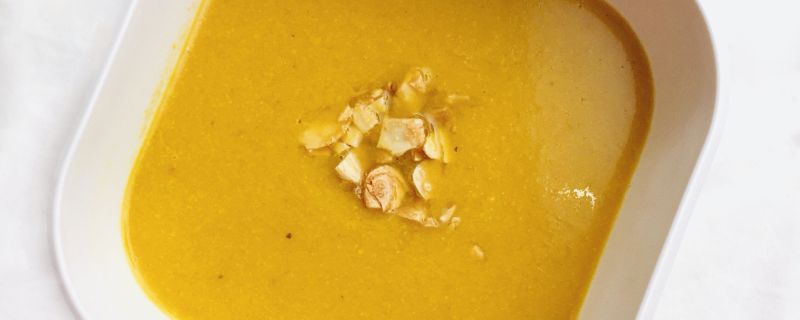 Ingredients:
Soup:
1 tablespoon extra virgin olive oil
1 large onion, chopped
6 cloves garlic, minced
2 tablespoons minced ginger
1 1⁄2 teaspoons turmeric
1 head cauliflower, cut into small florets
2 large sweet potatoes, peeled and chopped
3⁄4 teaspoon salt
4 cups vegetable broth
2 cups 1% milkfat vitamin D fortified milk
Almond topping:
1⁄3 cup slivered almonds
1⁄4 teaspoon garlic powder
1⁄4 teaspoon salt
4 teaspoons maple syrup
Instructions:
In a large pot, heat olive oil over medium-high heat. Add onion and sauté until translucent, about 5-10 minutes. Add garlic, ginger, and turmeric and sauté for another minute or so until very fragrant. Add cauliflower, sweet potato, salt, and vegetable broth and cover. Bring to a boil and then reduce to a simmer and cook for around 30 minutes, until sweet potatoes and cauliflower are tender.
While vegetables are cooking, make the almond topping. Preheat the oven to 350 degrees Fahrenheit and line a small baking sheet with parchment paper. Combine all ingredients and spread over the prepared baking sheet. Bake for 6-8 minutes until fragrant and toasted but be careful not to burn.
When vegetables are cooked, remove soup from heat and puree with an immersion blender until smooth. Stir in milk. Serve each bowl of soup with 1 tablespoon of the topping.
Yields: 2 servings
Per serving: 200 calories, 8.2 g protein, 28.9 g carbohydrates, 5.4 g fiber, 13.3 g sugars, 7 g fat, 1.3 g saturated fat, 0 g trans fat, 4 mg cholesterol, 712 mg sodium, 180.5 mg calcium, 0.03 g omega-3 fats, 6308 IU vitamin A, 71 mg vitamin C, 0.3 mg vitamin E, 1.6 mg iron, 1 mg zinc