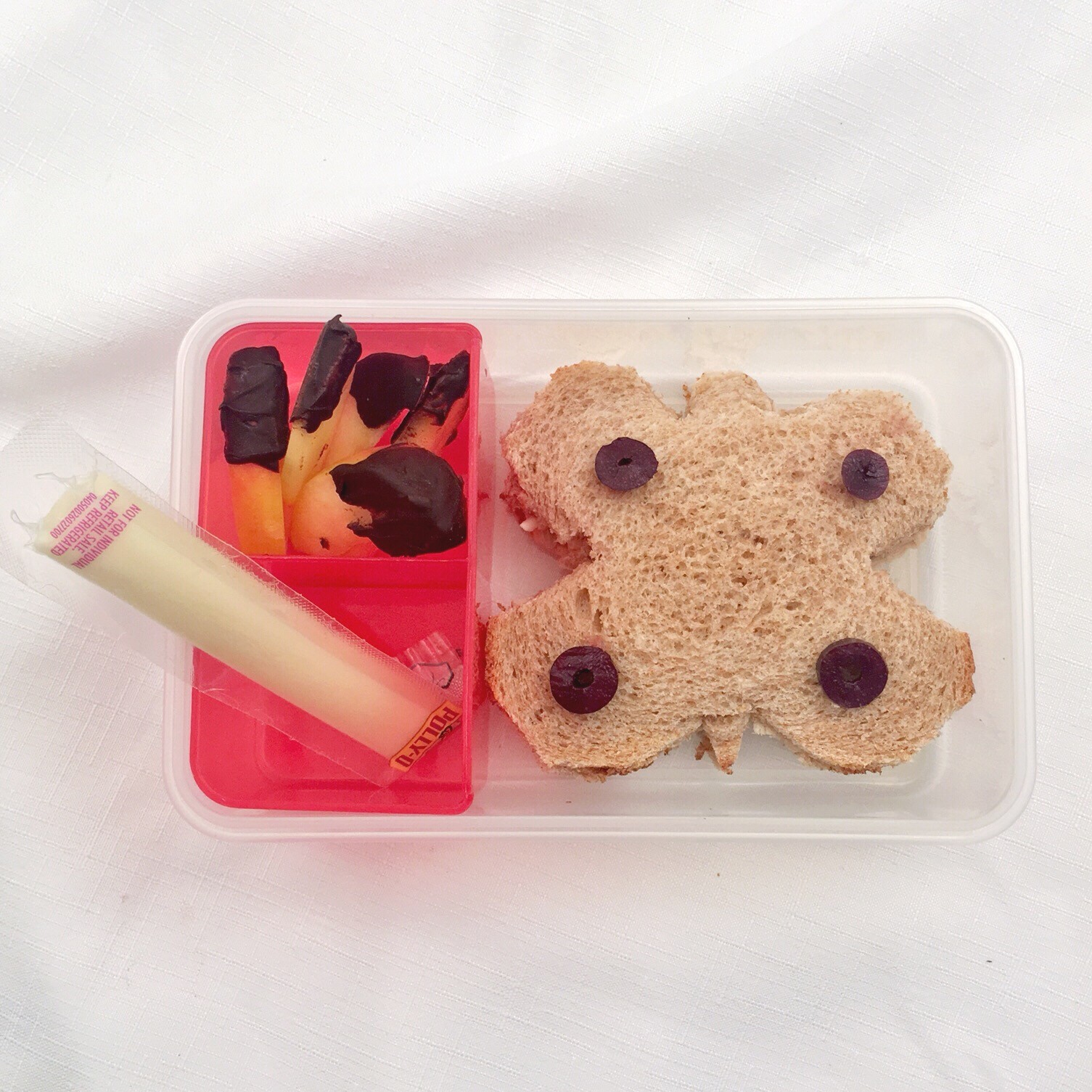 Recipe:
Ingredients:
3 ounces seasoned rotisserie chicken breast, diced
1⁄2 small apple, diced
1 tablespoon mayonnaise
2 slices whole wheat bread
1 kalamata olive, sliced into four pieces
1⁄2 large pear, sliced
2 tablespoons dark chocolate chips
1 light string cheese
Instructions:
Combine chicken, apple, and mayo. Using a butterfly-shaped or other sandwich cutter (there are lots of great ones to choose from!), cut out shapes from two slices of whole wheat bread, then place the chicken salad in between. Place an olive slice on each "wing" of the butterfly.
In a small microwave-safe bowl, microwave chocolate chips for about 45 seconds, stirring once every 15 seconds, until chocolate is fully melted. Dip the tip of each pear slice in the chocolate and place on a baking sheet lined with wax paper. Refrigerate for about 5 minutes, until chocolate is hardened. Pack these chocolate dipped pear slices on the side along with a string cheese.
Yields: 1 serving
Per serving: 588 calories, 31.24 g protein, 69.63 g carbohydrates, 9.85 g fiber, 28.53 g sugars, 20.87 g fat, 6.15 g saturated fat, 0.03 g trans fat, 53.3 mg cholesterol, 1239.5 mg sodium, 275.9 mg calcium, 0.76 g omega-3 fats, 349.2 IU vitamin A, 8.37 mg vitamin C, 0.72 mg vitamin E, 2.3 mg iron, 0.17 mg zinc