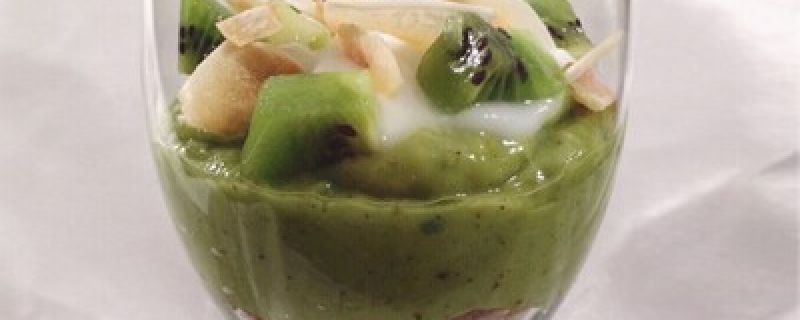 Ingredients:
1⁄2 small avocado
1 1⁄2 tablespoons agave nectar
1⁄2 teaspoon vanilla extract
1 teaspoon lime zest
2 tablespoons lime juice
1 large kiwi, peeled and chopped
1⁄4 cup maple granola
1 tablespoon plain Greek yogurt
1 tablespoon toasted coconut chips
Instructions:
In a blender, add avocado, agave, vanilla, lime zest and juice, and half of the kiwi. Blend until smooth and creamy. In a glass, add granola. Place the kiwi lime mousse on top of the granola, followed by the yogurt. Sprinkle the remaining chopped kiwi and the toasted coconut chips on top.
Yields: 1 serving
Per serving: 410 calories, 6.1 g protein, 62.8 g carbohydrates, 9.3 g fiber, 37.1 g sugars, 16.9 g fat, 4 g saturated fat, 0 g trans fat, 0.9 mg cholesterol, 55.7 mg sodium, 73 mg calcium, 0.1 g omega-3 fats, 166.1 IU vitamin A, 119.7 mg vitamin C, 1.4 mg vitamin E, 3.2 mg iron, 0.6 mg zinc