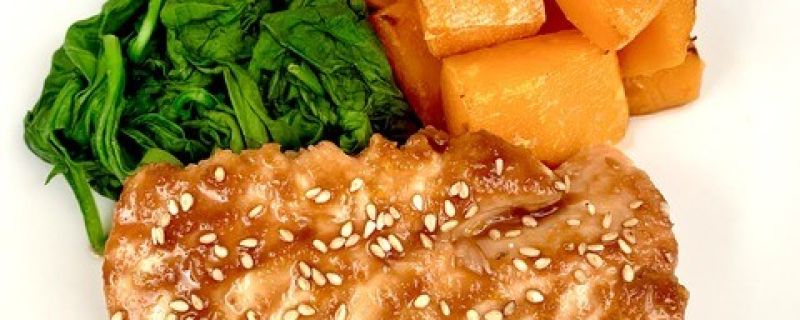 Ingredients:
1 lb salmon
2 tablespoons orange juice
1 tablespoons low sodium soy sauce
1 tablespoon brown sugar
1 tablespoon seasoned rice vinegar
2 teaspoons minced ginger
1 teaspoon orange zest
1 tablespoon extra virgin olive oil
1⁄4 teaspoon salt
1 butternut squash, peeled and chopped
2 cloves garlic, minced
8 cups baby spinach
Optional: sesame seeds for sprinkling on top
Instructions:
Preheat the oven to 375 degrees Fahrenheit. In a small bowl, mix together orange juice, soy sauce, brown sugar, rice vinegar, ginger, and orange zest. Place salmon in a baking dish and pour sauce on top. Bake for 25-30 minutes, until cooked through.
Raise oven temperature to 425 degrees Fahrenheit and line a baking sheet with parchment paper. Toss squash cubes with 2 teaspoons of olive oil and 1⁄8 teaspoon of salt and place on the lined baking sheet. Bake for 25-30 minutes, until lightly browned.
Heat remaining 1 teaspoon olive oil in a large skillet over medium heat. Add garlic and sauté for about 1 minute. Add spinach and remaining 1⁄8 teaspoon salt and cook until wilted.
Serve salmon with squash and spinach. Sprinkle with sesame seeds if desired.
Yields: 4 servings
Per serving: 345 calories, 28 g protein, 36.6 g carbohydrates, 7.4 g fiber, 9.8 g sugars, 10.8 g fat, 1.6 g saturated fat, 0 g trans fat, 62 mg cholesterol, 543 mg sodium, 238 mg calcium, 2.5 g omega-3 fats, 31503 IU vitamin A, 84.7 mg vitamin C, 3.8 mg vitamin E, 6.3 mg iron, 1.1 mg zinc