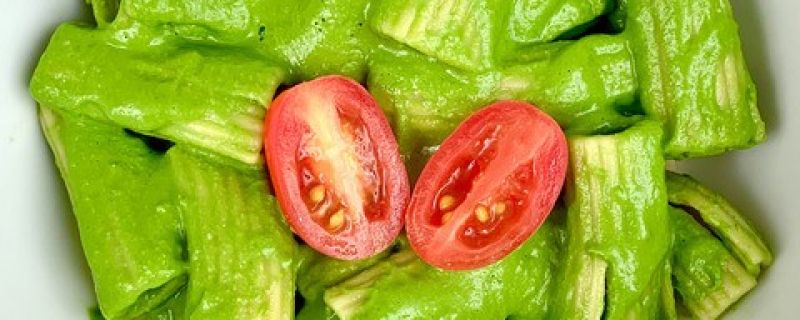 Ingredients:
1⁄2 cup cashews, soaked in water overnight or in boiling water for 1 hour
2 cups baby spinach
1 tablespoon lemon juice
2 cloves garlic
2 tablespoons nutritional yeast
1⁄2 teaspoon salt
8 oz chickpea pasta (or whole grain pasta)
Optional: cherry or grape tomatoes
Instructions:
In a blender, combine cashews, spinach, lemon juice, garlic, nutritional yeast, and salt and blend until smooth.
Bring a medium-sized pot of water to boil and cook pasta until al dente, around 8-10 minutes. Drain pasta and toss with sauce. Add sliced cherry or grape tomatoes if desired.
Yields: 4 servings
Per serving: 315 calories, 15.3 g protein, 43 g carbohydrates, 6.6 g fiber, 2 g sugars, 10.5 g fat, 1.6 g saturated fat, 0 g trans fat, 0 mg cholesterol, 349 mg sodium, 83 mg calcium, 0 g omega-3 fats, 1833 IU vitamin A, 10 mg vitamin C, 0.2 mg vitamin E, 5.1 mg iron, 1.2 mg zinc