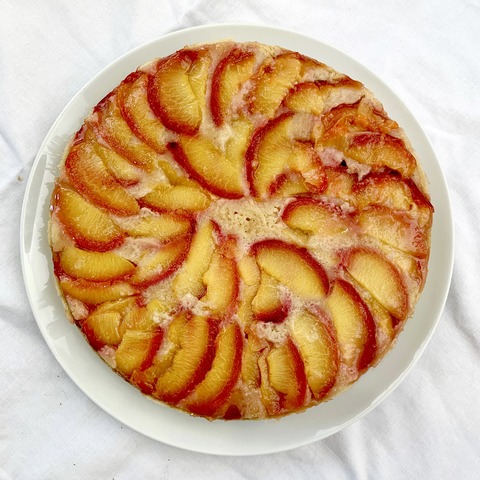 Recipe:
Sweet and caramelized plums embedded in a fluffy cake makes for a delicious summer dessert. Almond flour adds moisture to the cake without the need for oil, plus it provides a healthy dose of vitamin E.
Vitamin E can help keep hair shiny and lustrous by protecting the natural oils in your scalp and may also help keep skin smooth and supple. Plums are rich in anthocyanins, a type of antioxidant that helps protect against wrinkles by protecting collagen in skin.
Instructions:
Preheat the oven to 350 degrees Fahrenheit and grease a circular cake pan.
In a medium-sized bowl, combine all-purpose flour, almond flour, baking powder, salt, and cinnamon and stir until fully combined. In a separate large bowl, combine soy milk and apple cider vinegar and let sit for a minute to curdle. Once the soy milk has curdled, add sugar, applesauce, and vanilla.
Sprinkle 1 tablespoon of the brown sugar over the bottom of the greased cake pan. Arrange the plums in one layer on top of the brown sugar and sprinkle the remaining brown sugar over the top of the plums.
Stir the dry mixture into the wet mixture but do not overmix. Pour the batter over the plums and smooth out the top of the cake. Bake for 25-30 minutes, until a toothpick inserted into the center of the cake comes out clean. Let cool, then invert the cake pan to release the cake and cut into 12 slices.
Yields 12 servings
Per serving: 190 calories, 6.2 g protein, 30.1 g carbohydrates, 1.9 g fiber, 13.7 g sugars, 5.4 g fat, 0.1 g saturated fat, 0 g trans fat, 0 mg cholesterol, 105 mg sodium, 159 mg calcium, 0 g omega-3 fats, 99 IU vitamin A, 1.6 mg vitamin C, 2.1 mg vitamin E, 0.9 mg iron, 0.1 mg zinc