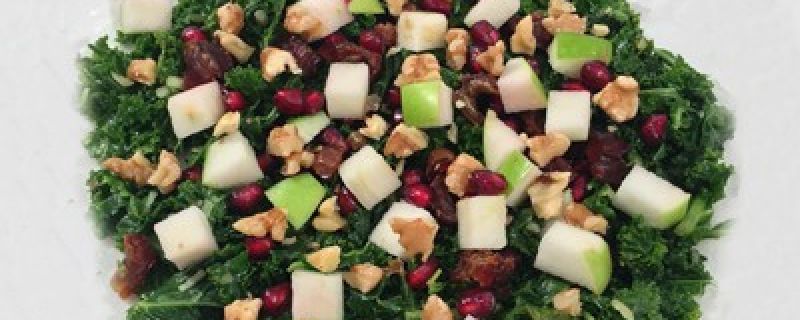 Ingredients:
For the salad:
10 oz kale, chopped and de-stemmed
1 granny smith apple, chopped
1⁄3 cup dates, chopped
1 cup pomegranate seeds
1⁄4 cup walnuts, chopped
For the vinaigrette:
1 1⁄2 tablespoons apple cider vinegar
1 tablespoon Dijon mustard
1 tablespoon extra-virgin olive oil
1 teaspoon honey
2 tablespoons minced shallot
Pinch of salt
Instructions:
In a large bowl, massage kale with your hands until it has softened slightly. In a small bowl, whisk together all vinaigrette ingredients. Massage vinaigrette into kale. Mix in chopped apple, chopped dates, pomegranate seeds, and chopped walnuts.
Yields: 4 servings
Per serving: 239 calories, 5.7 g protein, 37.8 g carbohydrates, 7.2 g fiber, 24.2 g sugars, 9.7 g fat, 1.1 g saturated fat, 0 g trans fat, 0 mg cholesterol, 159.3 mg sodium, 134.3 mg calcium, 0.1 g omega-3 fats, 7105.5 IU vitamin A, 91.1 mg vitamin C, 1.4 mg vitamin E, 1.8 mg iron, 0.6 mg zinc