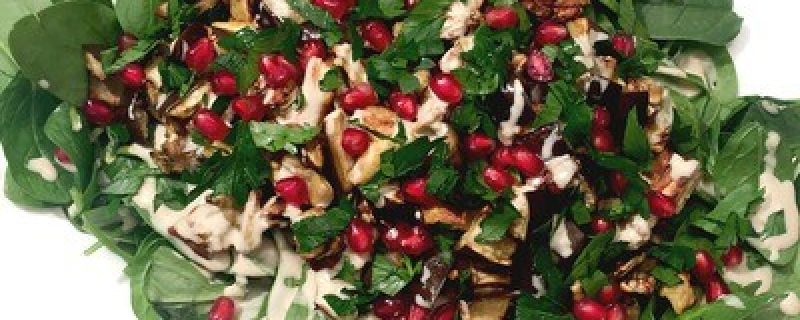 Ingredients:
For the salad:
1 small eggplant (or 1⁄2 large), cubed
1 teaspoon extra virgin olive oil
Pinch salt
1 8 oz bag spinach
Seeds of 1 small pomegranate
2 tablespoons chopped parsley
For the tahini sauce:
2 tablespoons tahini
1 tablespoon lemon juice
1 tablespoon water
1 clove garlic, minced
Pinch of salt
Instructions:
Preheat oven to 425 degrees Fahrenheit and line a baking sheet with parchment paper. Toss eggplant with olive oil and salt and place in one layer on prepared baking sheet. Roast for 25-30 minutes, until soft and slightly browned. In a large bowl, combine spinach, roasted eggplant, pomegranate seeds, and parsley. In a small bowl, mix together tahini, lemon juice, water, garlic, and salt. Drizzle sauce over salad and mix to evenly distribute.
Yields: 4 servings
Per serving: 163 calories, 5.28 g protein, 25.48 g carbohydrates, 8.3 g fiber, 14.11 g sugars, 6.24 g fat, 0.86 g saturated fat, 0 g trans fat, 0 mg cholesterol, 130.92 mg sodium, 87.58 mg calcium, 0.05 g omega-3 fats, 5533.27 IU vitamin A, 30.77 mg vitamin C, 0.85 mg vitamin E, 2.79 mg iron, 0.84 mg zinc