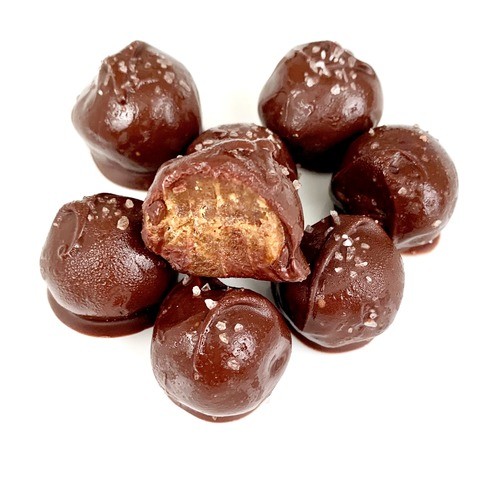 Recipe:
These decadent little truffles are the perfect post-dinner treat! The filling is chewy and sweet and tastes just like caramel, while the coating is rich and chocolatey. They have the perfect balance of sweet and salty as well as a bit of nuttiness from the peanut butter.
Dark chocolate is full of antioxidants, which help protect against aging. The sweet treat is also loaded with beauty benefits from boosting circulation to skin to protecting against sunburn.
Ingredients:
1 cup pitted soft medjool dates
1 tablespoon creamy peanut butter
1⁄4 teaspoon salt
1⁄2 cup dark chocolate chips
1 teaspoon coconut oil
Optional: flaky sea salt, for sprinkling on top
Instructions:
Add dates to a food processor and blend until they form a paste. Add in peanut butter and salt and blend again until smooth. Roll this mixture into around 24 small spheres.
Line a baking sheet with parchment or wax paper. In a small microwave-safe bowl, add chocolate chips and coconut oil. Microwave in 20 second intervals until fully melted, stirring between intervals.
Dip each date caramel sphere into the chocolate and roll around to fully coat. Let the excess drip off and then place on the baking sheet. Repeat for the rest of the spheres and sprinkle flaky sea salt on top if desired. Freeze for at least 30 minutes. Eat immediately or transfer to a Ziploc bag and store in the freezer; defrost about 5 minutes before eating.
Yields: 12 servings (2 truffles each)
Per serving: 104 calories, 1.3 g protein, 18 g carbohydrates, 2.5 g fiber, 14.5 g sugars, 5.1 g fat, 2.8 g saturated fat, 0 g trans fat, 0 mg cholesterol, 54 mg sodium, 11 mg calcium, 0 g omega-3 fats, 25 IU vitamin A, 0 mg vitamin C, 0.1 mg vitamin E, 2 mg iron, 0.1 mg zinc