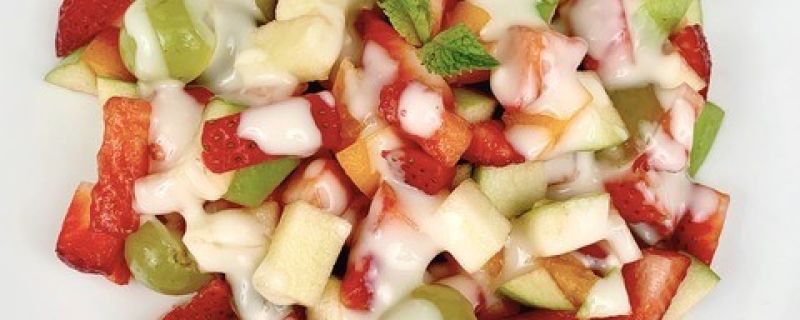 Ingredients:
For the salad:
3 cups strawberries, hulled and chopped
1 cup green grapes, sliced in half
2 apricots, pitted and chopped
1 large granny smith apple, chopped
1 tablespoon ground flaxseed
1⁄4 cup chopped walnuts, toasted
Optional fresh mint for garnish
For the lemon honey yogurt sauce:
1⁄2 cup low-fat yogurt
2 tablespoons lemon juice
1 teaspoon lemon zest
1 tablespoon honey
Instructions:
In a large bowl, add strawberries, grapes, apricots, apple, flax, and walnuts.
In a small bowl, whisk together sauce ingredients and pour over fruit. Mix to combine.
Yields: 4 servings
Per serving: 193 calories, 4.6 g protein, 32.8 g carbohydrates, 5.4 g fiber, 24.5 g sugars, 6.4 g fat, 0.8 g saturated fat, 0 g trans fat, 2 mg cholesterol, 25 mg sodium, 94 mg calcium, 1.1 g omega-3 fats, 444 IU vitamin A, 70.4 mg vitamin C, 0.7 mg vitamin E, 1.1 mg iron, 0.8 mg zinc