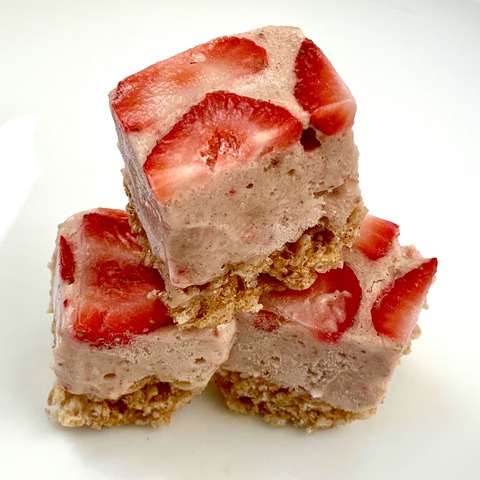 Recipe:
These bars hit the spot when you want a dessert with the craveable combination of creamy ice cream and crispy cereal. The "ice cream" is made from frozen bananas combined with tart strawberries and nutty almond butter.
The crispy rice base is a healthy spin on rice krispies treats with maple syrup and almond butter replacing the marshmallows. Almond butter is high in vitamin E, which helps protect lipids in the skin, scalp, and eyes. Strawberries are an excellent source of vitamin C, another anti-aging antioxidant.
Ingredients:
2 tablespoons plus 1 tablespoon almond butter
2 tablespoons maple syrup
¼ teaspoon salt
½ teaspoon vanilla extract
3 cups puffed rice cereal
3 sliced frozen bananas
½ cup frozen strawberries
½ cup fresh strawberries, sliced
Instructions:
In a large bowl, whisk together 2 tablespoons of the almond butter, maple syrup, salt, and vanilla extract until smooth. Stir in puffed rice cereal and mix until fully coated.
Line a medium-sized baking dish with parchment paper and press the mixture into the dish in an even layer.
Add bananas, frozen strawberries, and remaining 1 tablespoon almond butter to a food processor and blend until smooth, adding water if necessary. Spread this "ice cream" over the puffed rice layer and top with fresh sliced strawberries.
Cover and freeze overnight, or for at least 8 hours. Slice into 12 squares and store in the freezer until ready to eat.
Yields 12 servings
Per serving: 82 calories, 1.6 g protein, 14.8 g carbohydrates, 1.5 g fiber, 6.5 g sugars, 2.4 g fat, 0.3 g saturated fat, 0 g trans fat, 0 mg cholesterol, 59 mg sodium, 21 mg calcium, 0 g omega-3 fats, 20 IU vitamin A, 9.6 mg vitamin C, 1 mg vitamin E, 0.4 mg iron, 0.3 mg zinc