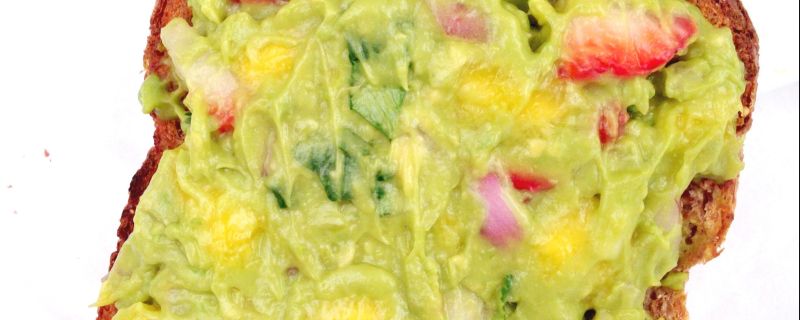 Ingredients:
2 slices whole wheat bread, toasted
1⁄2 ripe avocado
1 tablespoon lime juice
Pinch salt
1⁄4 cup chopped mango
1/4 cup chopped strawberries
2 tablespoons fresh mint, chopped
1 tablespoon minced red onion, optional (not included in nutritional info)
Instructions:
In a small bowl, mash avocado and mix in lime juice and salt. Stir in mango, strawberries, mint, and red onion, if using. Spread mashed avocado mixture on the slices of toast.
Yields: 1 serving
Per serving: 359 calories, 12.35 g protein, 55 g carbohydrates, 12.83 g fiber, 13.75 g sugars, 12.84 g fat, 1.51 g saturated fat, 0 g trans fat, 0 mg cholesterol, 395 mg sodium, 124 mg calcium, 0.17 g omega-3 fats, 1020 IU vitamin A, 48.2 mg vitamin C, 1.85 mg vitamin E, 4.16 mg iron, 0.7 mg zinc