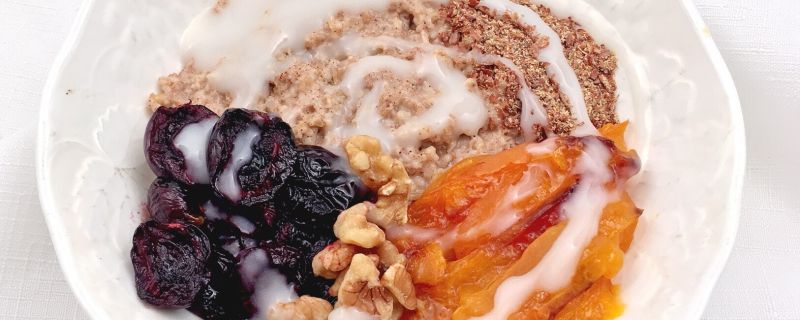 Ingredients:
2 apricots, sliced
1⁄2 cup cherries, pitted and sliced in half
1⁄4 cup steel cut oats
1⁄2 cup unsweetened almond milk
1⁄2 cup water
1 tablespoon maple syrup
1⁄2 teaspoon cinnamon
2 tablespoons unsweetened plain coconut milk yogurt
1 teaspoon honey
1 tablespoon ground flaxseed
1 tablespoon chopped walnuts
Instructions:
Preheat oven to 450 degrees Fahrenheit. Place apricots and cherries in one layer on a baking dish lined with aluminum foil and roast for 10-15 minutes, until soft and slightly browned. Set aside.
In a small pot, combine oats with almond milk and water. Bring to a boil, making sure it does not boil over. Reduce heat to medium-low and cook for another 5-7 minutes until thickened to your liking, stirring occasionally. Remove from heat and stir in maple syrup and cinnamon. Set aside.
In a small bowl, mix together coconut milk yogurt and honey.
In a serving bowl, add cooked oats and roasted fruit. Sprinkle with ground flaxseed and walnuts and drizzle with yogurt sauce.
*To make this recipe meal-prep friendly, prep the oats and fruit in advance.  Use 5 times the amounts called for in the original recipe to make 5 servings, one for each weekday morning.
Yields: 1 serving*
Per serving: 439 calories, 10.07 g protein, 78.28 g carbohydrates, 11.64 g fiber, 34.25 g sugars, 12.07 g fat, 1.92 g saturated fat, 0 g trans fat, 0 mg cholesterol, 97.31 mg