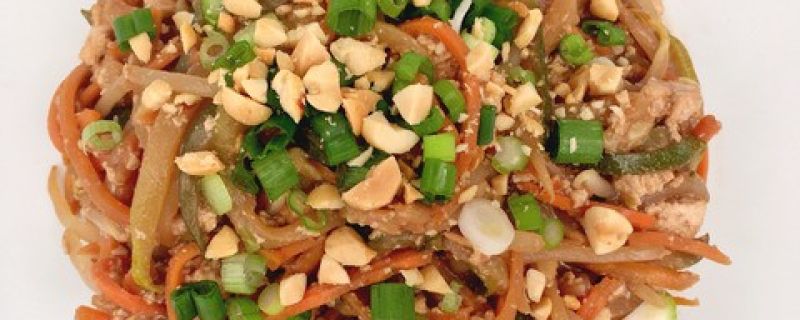 Ingredients:
2 tablespoons peanut butter
3 cloves garlic, minced
3 tablespoons tamarind paste
1⁄4 cup low sodium soy sauce
3 tablespoons honey
1 teaspoon sriracha
2 medium zucchinis, spiralized (or 12 oz pre-spiralized zucchini)
3 cups shredded carrot
3 cups mung bean sprouts
8 oz extra firm tofu, crumbled
3 scallions, sliced
1⁄4 cup peanuts, chopped
Optional lime wedges for serving
Instructions:
In a large skillet or shallow pot, combine peanut butter, garlic, tamarind, soy sauce, honey, and sriracha and heat over medium-high heat. Simmer for a few minutes and then add in zucchini, carrot, mung bean sprouts, and tofu. Cook for 5-10 minutes, until vegetables are cooked and sauce has thickened. Top with sliced scallions and crushed peanuts and serve with lime wedges if desired.
Yields: 4 servings
Per serving: 293 calories, 15.8 g protein, 36.4 g carbohydrates, 6.1 g fiber, 24.6 g sugars, 12.1 g fat, 2 g saturated fat, 0 g trans fat, 0 mg cholesterol, 697 mg sodium, 107 mg calcium, 0.1 g omega-3 fats, 7639 IU vitamin A, 34 mg vitamin C, 0.9 mg vitamin E, 3.1 mg iron, 1.1 mg zinc