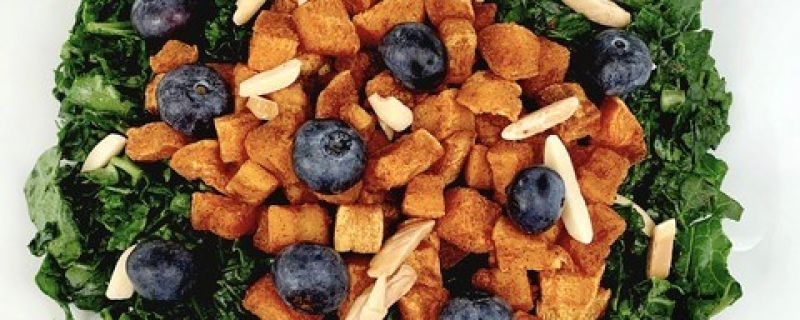 Ingredients:
For the salad:
2 medium-sized sweet potatoes, peeled and chopped
1 teaspoon extra virgin olive oil
1⁄2 teaspoon cinnamon
Pinch salt
10 oz kale, chopped, de-stemmed, and steamed
2 cups blueberries
1⁄4 cup toasted slivered almonds
For the orange vinaigrette:
2 tablespoons orange juice
1 tablespoon apple cider vinegar
1⁄2 tablespoon extra virgin olive oil
1⁄2 tablespoon Dijon mustard
1⁄2 tablespoon maple syrup
Pinch salt
Instructions:
Preheat the oven to 425 degrees Fahrenheit and line a baking sheet with parchment paper. Toss sweet potato with olive oil, cinnamon, and salt and place in one layer on the prepared baking sheet. Roast for 25 minutes, until soft and slightly browned.
In a small bowl, whisk together all vinaigrette ingredients. In a large bowl, add kale and massage half of the vinaigrette into the kale. Add roasted sweet potatoes, blueberries, toasted almonds, and remaining vinaigrette and mix to combine.
Yields: 4 servings
Per serving: 222 calories, 6.5 g protein, 34.6 g carbohydrates, 7.4 g fiber, 14.3 g sugars, 8.4 g fat, 0.9 g saturated fat, 0 g trans fat, 0 mg cholesterol, 187 mg sodium, 160 mg calcium, 0.2 g omega-3 fats, 16358 IU vitamin A, 97.7 mg vitamin C, 3.8 mg vitamin E, 2 mg iron, 1 mg zinc