Lisa's Beauty Bites™
I MUST ADMIT that as a parent, I find it
So what's a mom, dad, caregiver to pack for lunch?
Lisa's Books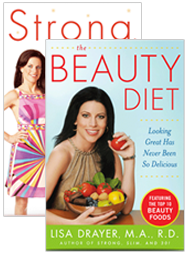 Both The Beauty Diet and Strong, Slim, and 30! are available for purchase at Amazon and Barnes & Noble
BUY
Lisa's Tips & Advice
Lisa Drayer M.A., R.D., is a registered dietitian and health reporter who educates consumers about important issues related to personal health, heauty, nutrition and motherhood.