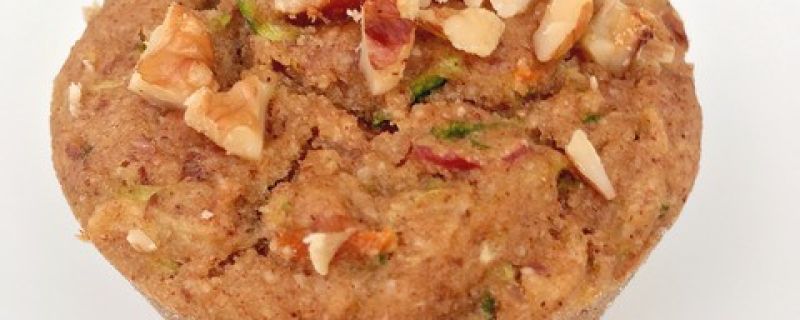 Ingredients:
1 3⁄4 cups white whole wheat flour
1⁄2 cup almond meal
2 teaspoons baking powder
1⁄2 teaspoon salt
1 1⁄2 teaspoons cinnamon
1⁄2 teaspoon ground ginger
1⁄4 teaspoon nutmeg
1⁄4 cup granulated sugar
1⁄2 cup brown sugar
1 cup unsweetened almond milk
1 tablespoon apple cider vinegar
1 tablespoon ground flaxseed
1 teaspoon vanilla extract
1 cup shredded zucchini
1 cup shredded carrot
1⁄2 cup shredded apple
1⁄4 cup walnuts, chopped
Instructions:
Preheat the oven to 375 degrees Fahrenheit and lightly grease a 12-cup muffin tin (or line with cupcake liners).
In a medium-sized bowl, combine flour, almond meal, baking powder, salt, cinnamon, ginger, and nutmeg and stir well.
In a large bowl, combine granulated sugar, brown sugar, almond milk, vinegar, flaxseed, vanilla, and shredded zucchini. Gently stir the dry ingredients into the wet ingredients until fully combined and then fold in the shredded carrot and apple.
Distribute the mixture evenly among the muffin cups and top each muffin with chopped walnuts. Bake for 20-25 minutes, until a toothpick inserted into the center comes out clean.
Yields: 12 servings
Per serving: 162 calories, 4.1 g protein, 28.8 g carbohydrates, 3.2 g fiber, 13.5 g sugars, 4.7 g fat, 0.3 g saturated fat, 0 g trans fat, 0 mg cholesterol, 117 mg sodium, 158 mg calcium, 0.3 g omega-3 fats, 851 IU vitamin A, 2 mg vitamin C, 1.8 mg vitamin E, 0.9 mg iron, 0.3 mg zinc