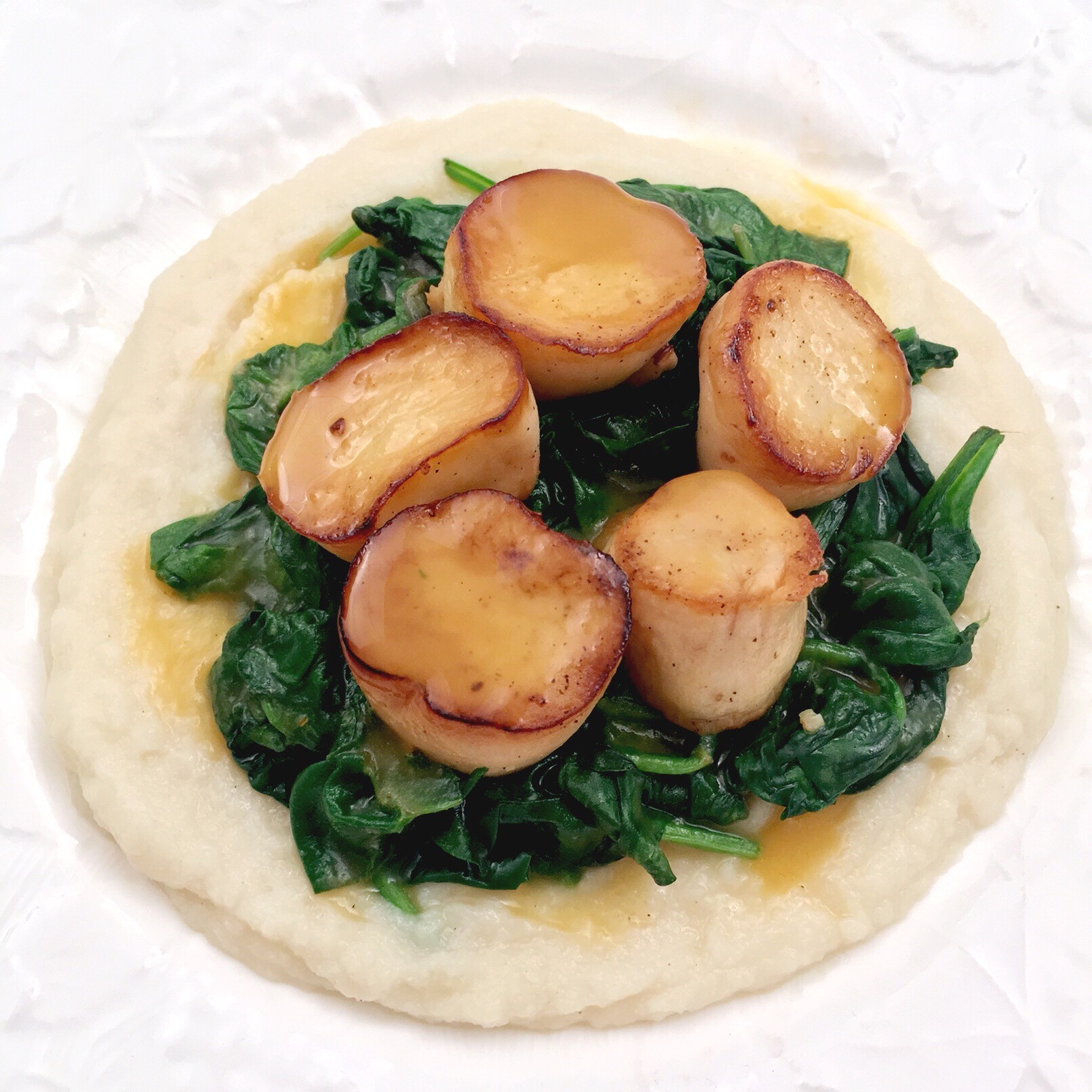 Recipe:
Ingredients:
For the mushroom "scallops":
8 king oyster mushrooms, gently washed
Pinch salt
Pinch pepper
1 tablespoon extra virgin olive oil
For the cauliflower puree:
1⁄2 large head cauliflower, steamed until soft
1⁄2 cup unsweetened almond milk
1⁄2 teaspoon salt
Pinch pepper
For the sautéed spinach:
1 teaspoon extra virgin olive oil
1 clove garlic, minced
1 10 oz bag fresh spinach
Pinch salt
For the white wine lemon sauce:
1⁄2 cup white wine
1⁄2 cup vegetable broth
1 tablespoon lemon juice
Instructions:
Remove the tops of the mushrooms and reserve for another use. Slice the stems into crosswise sections about 2 inches thick. Toss the mushroom stem pieces with a pinch of salt and pepper. Heat up the olive oil over medium-high heat in a large pan. Place the mushroom stems in the pan in one layer and let sit for about 1 minute, until golden brown and "seared" on one side. Flip the mushrooms and sear on the other side for another minute. Remove the mushrooms from the pan and set aside.
In a bowl, combine cauliflower, almond milk, salt, and pepper. Puree with an immersion blender until smooth. Set aside.
In a medium-sized pan, heat olive oil over medium-low heat. Sauté garlic for about 30 seconds and then add in spinach and cook until wilted. Season with a pinch of salt and set aside.
In a small pan, add wine and vegetable broth and simmer over medium heat for 5-8 minutes, until the sauce has reduced in volume by about half. Remove from heat and stir in the lemon juice.
On each plate, place a few spoonfuls of cauliflower puree, a few spoonfuls of spinach, and a few mushroom "scallops". Drizzle everything with a few spoonfuls of sauce.
Yields: 4 servings
Per serving: 120.55 calories, 4.87 g protein, 10.47 g carbohydrates, 4.62 g fiber, 2.57 g sugars, 5.47 g fat, 0.82 g saturated fat, 0 g trans fat, 0 mg cholesterol, 715 mg sodium, 117.74 mg calcium, 0.02 g omega-3 fats, 6748 IU vitamin A, 72.36 mg vitamin C, 1.35 mg vitamin E, 3.16 mg iron, 0.53 mg zinc