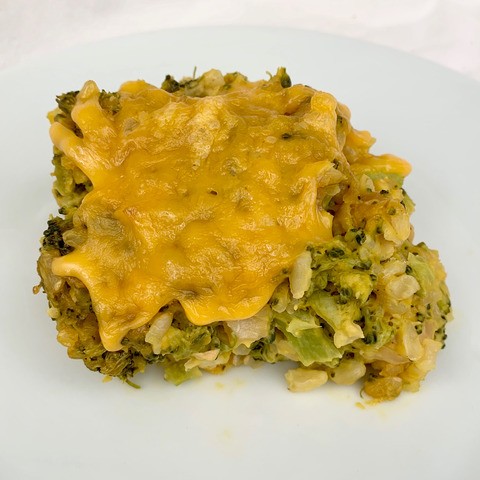 Recipe:
This healthy weeknight dinner is easy to prepare and full of hidden nutrition. No one would ever guess that the velvety, cheesy sauce is hiding carrots and cashews!
Carrots are a great source of beta-carotene, which helps to keep skin smooth and soft. Cashews are a good source of zinc, which may help protect against white lines on fingernails and improve acne. The casserole also contains fiber-rich brown rice, protein-rich chickpeas, and vitamin C-rich broccoli. Fiber and protein help create a feeling of fullness to prevent overeating and vitamin C is involved in collagen production for supple skin and strong teeth.
Ingredients:
1 cup cashews, soaked in water overnight or in boiling water for 1 hour
2 cups cooked carrots
½ cup nutritional yeast
1 tablespoon white miso paste
3 cloves garlic, peeled
2 tablespoons lemon juice
1 teaspoon salt
1 ½ cups dry short grain brown rice, cooked in 3 cups water
3 small heads broccoli, finely chopped
2 15 oz cans chickpeas, drained and rinsed
1 cup reduced fat shredded cheddar cheese
Instructions:
To a blender, add cashews, carrots, nutritional yeast, miso paste, garlic, lemon juice, salt, and 1 ½ cups water and blend until smooth.
Preheat the oven to 375 degrees Fahrenheit. In a large bowl, combine cooked brown rice, broccoli, chickpeas, and sauce and mix well. Add to a large casserole dish and smooth over the top. Bake, uncovered, for 30 minutes, until the top is slightly golden. Top with cheese and return to the oven for another 10-15 minutes, until the cheese is melted and bubbly.
Yields 8 servings
Per serving: 452 calories, 22.2 g protein, 67.8 g carbohydrates, 14.4 g fiber, 9.5 g sugars, 14.4 g fat, 3.5 g saturated fat, 0 g trans fat, 8 mg cholesterol, 717 mg sodium, 286 mg calcium, 0.1 g omega-3 fats, 6870 IU vitamin A, 207.2 mg vitamin C, 2.4 mg vitamin E, 4.3 mg iron, 3 mg zinc