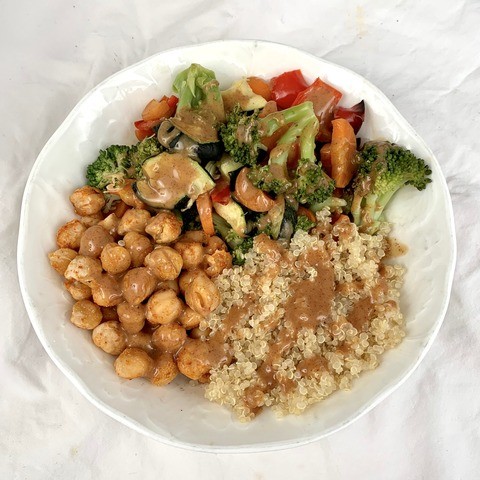 Recipe:
Bowls are a great healthy lunch option because they combine protein, whole grains, veggies, and a flavorful sauce packed with healthy fats. They can be easily assembled the night before and taken on the go or eaten at home. This bowl features chickpeas, a variety of vegetables, fluffy quinoa, and a tasty ginger-infused sauce.
Ingredients:
2 cups roasted veggie blend
1 cup canned chickpeas, drained and rinsed
1⁄2 cup cooked quinoa
1 tablespoon almond butter
1 teaspoon lemon juice
1⁄2 teaspoon maple syrup
1⁄2 teaspoon reduced sodium soy sauce
1⁄4 teaspoon ground ginger
Instructions:
In a small bowl, whisk together almond butter, lemon juice, maple syrup, soy sauce, ginger, and water as needed to thin. Add veggies, chickpeas, and quinoa to a bowl and drizzle with the sauce.
Yields 1 serving
Per serving: 633 calories, 31.4 g protein, 95.3 g carbohydrates, 26.5 g fiber, 23.8 g sugars, 19.3 g fat, 2.5 g saturated fat, 0 g trans fat, 0 mg cholesterol, 858 mg sodium, 334 mg calcium, 0.4 g omega-3 fats, 6763 IU vitamin A, 366.6 mg vitamin C, 8.1 mg vitamin E, 7 mg iron, 4.7 mg zinc