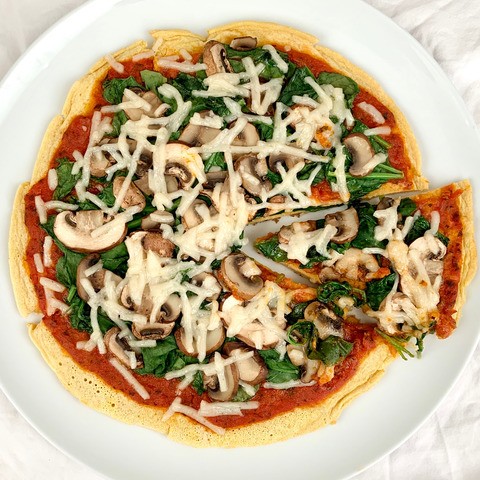 Recipe:
These days, almost everything is used to make an alternative pizza crust, from cauliflower to cheese. But some of these "pizza crusts" turn out flimsy, watery, and unsatisfying. This chickpea flour crust is crispy on the outside and soft and fluffy on the inside, while still being sturdy enough to handle the weight of whatever toppings you want to pile on.
Chickpea flour is made of ground dried chickpeas and is high in two beauty nutrients–protein and iron. Eating enough protein not only aids in satiety but it also is important for beautiful skin, nails, and hair. Chickpea flour also supplies iron, which can help protect nails and hair from becoming brittle.
Tomatoes are an excellent source of lycopene, which may help keep skin soft and smooth by protecting against sunburn. Spinach is also rich in the antioxidant lutein, another skin-protective carotenoid that also keeps eyes healthy.
Ingredients:
1 cup chickpea flour
1 teaspoon baking powder
1⁄4 teaspoon salt
1 cup water
1 teaspoon extra virgin olive oil
1⁄2 cup marinara sauce
4 oz mushrooms, chopped
1 cup baby spinach
1⁄2 cup shredded part-skim mozzarella cheese
Instructions:
Preheat oven to 350 degrees Fahrenheit and line a circular baking sheet with parchment paper. (Note: If you don't have a circular baking sheet, a regular baking sheet will work just fine).
In a medium-sized bowl, mix chickpea flour, baking powder, and salt. Add water and mix until a runny batter forms.
Heat olive oil in a large pan over medium heat. Pour in chickpea batter and cook until bubbles start to form. Flip and cook an additional 1-2 minutes on the other side. Transfer this chickpea crust to the prepared baking sheet.
Spread marinara sauce over the crust and top with spinach and mushrooms. Sprinkle cheese over the pizza and bake for 10-15 minutes, until cheese is melted and bubbly.
Slice into 8 pieces.
Note: the mushrooms and spinach cook in the oven but if you want the mushrooms to be extra soft, you can quickly sauté or even microwave them and then put them on the pizza.
Yields: 2 servings
Per serving: 336 calories, 20 g protein, 37 g carbohydrates, 7.2 g fiber, 9.7 g sugars, 12.1 g fat, 4 g saturated fat, 0 g trans fat, 19 mg cholesterol, 822 mg sodium, 572 mg calcium, 0.1 g omega-3 fats, 2494 IU vitamin A, 9.3 mg vitamin C, 2.1 mg vitamin E, 4.1 mg iron, 3.1 mg zinc