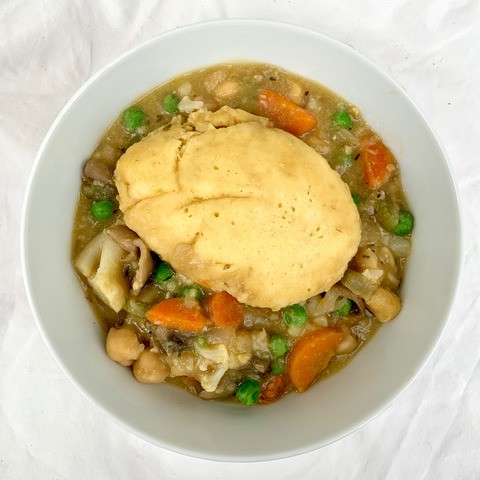 Recipe:
This chicken pot pie-inspired stew is full of tender vegetables swimming in a rich gravy topped with fluffy chickpea biscuits that soak up the stew.
With chickpeas in the stew and chickpea flour in the biscuits, this stew is packed with beauty-boosting protein. Protein helps keep hair elastic and long, nails strong, and skin fresh and renewed. Carrots in the stew provide plenty of beta-carotene, which keeps skin smooth and supple.
Ingredients:
For the stew:
1 teaspoon olive oil
1 large onion, chopped
3 cloves garlic, minced
2 large carrots, sliced
3 ribs celery, sliced
8 oz mushrooms, sliced
2 tablespoons all-purpose flour
4 cups vegetable broth
1 teaspoon dried thyme
½ small head cauliflower, cut into florets
1 15 oz can chickpeas, drained and rinsed
1 cup frozen peas
Salt and pepper to taste
For the chickpea biscuits:
½ cup unsweetened soy milk
2 teaspoons lemon juice
1 tablespoon olive oil
1 cup chickpea flour
1 teaspoon baking powder
¼ teaspoon salt
Instructions:
Add the olive oil to a large pot and heat over medium heat. Add onion and sauté until golden brown, about 5-7 minutes. Add garlic and sauté for another minute. Add carrots, celery, and mushrooms and sauté until vegetables have softened. Add the flour and stir to coat the vegetables. Add in the thyme, vegetable broth, and cauliflower and raise heat to medium-high. Simmer, stirring occasionally, until cauliflower is tender, around 10 minutes. Stir in chickpeas and peas; add salt and pepper to taste.
While stew is simmering, in a small bowl combine soy milk, lemon juice, and olive oil. In a separate small bowl, stir together chickpea flour, baking powder, and salt. Add the dry mixture to the wet mixture and stir to combine.
Add tablespoon-sized dollops of the chickpea batter to the top of the stew. Cover and let steam over medium heat for 8-10 minutes. Pour stew into 4 bowls.
Yields 4 servings
Per serving: 332 calories, 16.3 g protein, 49.8 g carbohydrates, 11 g fiber, 12.7 g sugars, 8.6 g fat, 1.1 g saturated fat, 0 g trans fat, 0 mg cholesterol, 1003 mg sodium, 280 mg calcium, 0.1 g omega-3 fats, 5867 IU vitamin A, 25.8 mg vitamin C, 1.3 mg vitamin E, 3.6 mg iron, 2.1 mg zinc