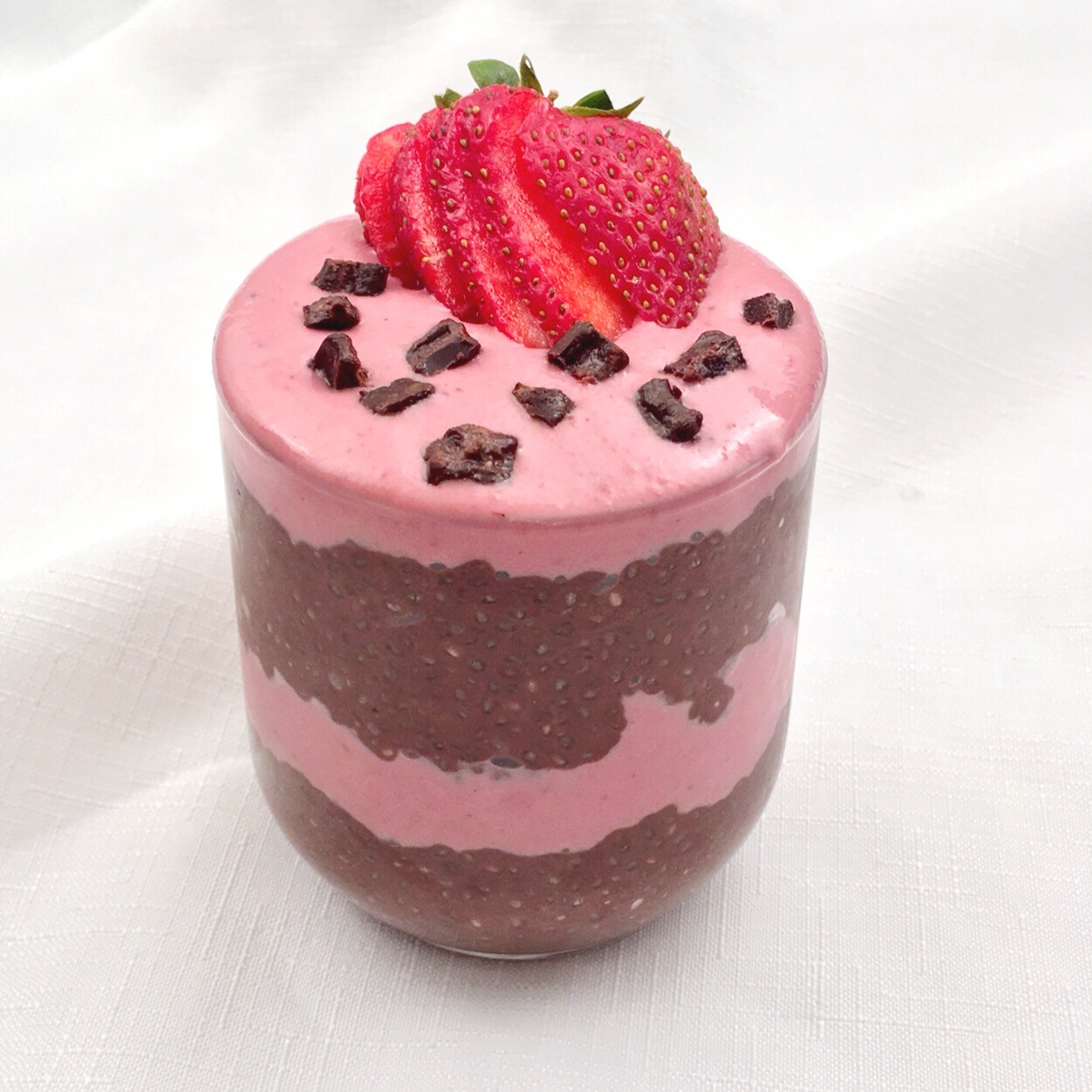 Recipe:
Ingredients:
For the chocolate chia seed pudding layer:
1⁄4 cup chia seeds
1 cup unsweetened almond milk
2 tablespoons unsweetened cocoa powder
1 tablespoon maple syrup
1⁄8 teaspoon vanilla extract
For the strawberry yogurt layer:
1 cup plain Greek yogurt
1 cup frozen strawberries, chopped
2 teaspoons honey
Instructions:
Optional toppings (not included in nutritional info): fresh sliced strawberries, dark chocolate chips, cacao nibs
In a small container or tupperware, combine chia seeds and almond milk. Cover and refrigerate overnight to thicken. (It should sit for at least 2 hours). In the morning, stir in cocoa powder, maple syrup, and vanilla extract.
In a medium-sized bowl, combine yogurt, strawberries, and honey. Blend with an immersion blender until smooth.
In a jar or tall glass, layer the chia seed pudding and the yogurt. Top with optional toppings, if desired.
Yields: 2 servings
Per serving: 306 calories, 19.22 g protein, 41.07 g carbohydrates, 16.5 g fiber, 19.9 g sugars, 11.76 g fat, 1 g saturated fat, 0 g trans fat, 7.5 mg cholesterol, 216.42 mg sodium, 533.9 mg calcium, 5.8 g omega-3 fats, 1050 IU vitamin A, 40 mg vitamin C, 3.41 mg vitamin E, 2.73 mg iron, 0.91 mg zinc