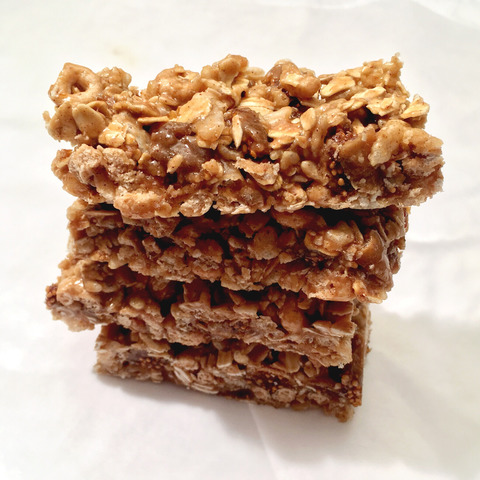 Recipe:
These easy no-bake bars are perfect to bring on the go. The three different cereals provide different textures, while the figs deliver fiber and add chewiness and sweetness.
Tahini is rich in beauty minerals including iron, calcium, and magnesium, and gives the bars a nutty flavor, along with a bit of spice from the cinnamon.
Ingredients:
1 cup rolled oats
1 cup Cheerios cereal
1 cup puffed rice cereal
1⁄4 teaspoon salt
1⁄2 cup dried figs, chopped
1⁄4 cup tahini
1⁄4 cup maple syrup
1⁄2 teaspoon cinnamon
1⁄2 teaspoon vanilla extract
Instructions:
Preheat oven to 350 degrees Fahrenheit. Line a baking sheet with parchment paper and place oats in one layer. Toast in the oven for 10 minutes, stirring at the five-minute mark. Line a 9 x 11 baking dish with wax paper. In a medium-sized bowl, mix toasted oats, Cheerios, puffed rice, salt, and chopped figs. In a small microwave-safe bowl, mix tahini, maple syrup, cinnamon, and vanilla. Microwave this mixture for 30 seconds and then pour over the oat mixture. Mix everything thoroughly, until a sticky mixture forms. Press this mixture into the prepared baking dish in an even layer. Refrigerate for at least two hours, then slice into eight bars.
Yields 8 servings
Per serving: 158 calories, 3.36 g protein, 26.54 g carbohydrates, 3.14 g fiber, 11.74 g sugars, 4.97 g fat, 0.74 g saturated fat, 0 g trans fat, 0 mg cholesterol, 93.93 mg sodium, 56.51 mg calcium, 0.03 g omega-3 fats, 120.97 IU vitamin A, 1.08 mg vitamin C, 0.03 mg vitamin E, 2.24 mg iron, 1.08 mg zinc