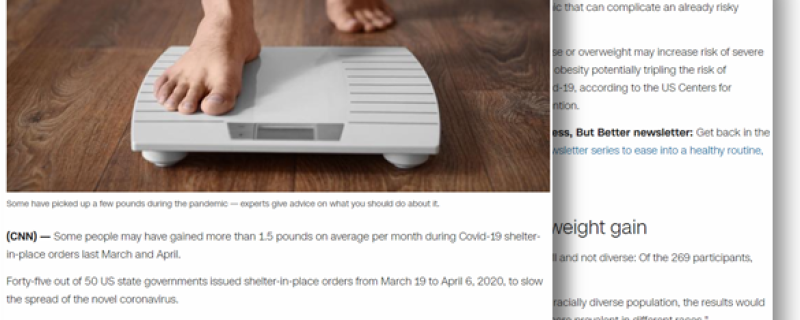 CNN.com: If you've gained weight during the pandemic, you're not alone. Here's what to do about it
Some people may have gained more than 1.5 pounds on average per month during Covid-19 shelter-in-place orders last March and April.
Forty-five out of 50 US state governments issued shelter-in-place orders from March 19 to April 6, 2020, to slow the spread of the novel coronavirus.
A research team looked at nearly 7,500 weight measurements from 269 participants between February 1 and June 1, 2020, according to a research letter published Monday in JAMA Network Open. The participants were part of the Health eHeart Study, and their weight measurements came from Bluetooth-connected smart scales.
"On average, they gained about 0.6 pounds every 10 days or 1.8 pounds per month during shelter in place orders," said cardiologist Dr. Gregory Marcus, one of the authors of the research and a professor of medicine at The University of California, San Francisco.