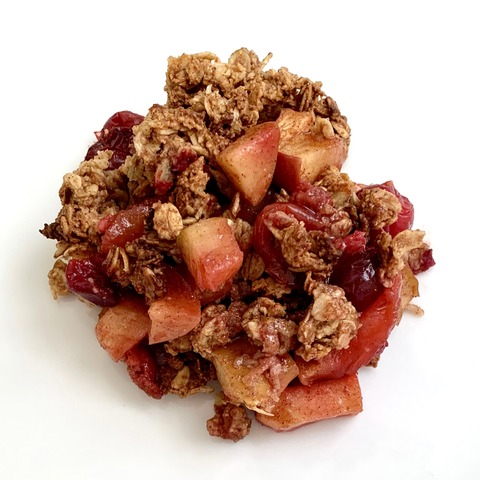 Recipe:
This dessert captures the flavors of the holidays and is quick and simple to prepare.
Almond butter, rolled oats, and almond flour create a crispy crumble topping that is rich in beauty nutrients vitamin E and fiber. Vitamin E works to protect natural oils in scalp and skin, while fiber helps to keep you slim.
Ingredients:
3 large apples, chopped
2 cups fresh or frozen cranberries
1 tablespoon cornstarch
2 teaspoons cinnamon
¼ cup plus 2 tablespoons maple syrup
¼ cup almond butter
1 teaspoon vanilla extract
¼ teaspoon salt
1 ½ cups rolled oats
½ cup almond flour
Instructions:
Preheat the oven to 350 degrees Fahrenheit.
Add apples and cranberries to a medium-sized casserole dish and toss with the cornstarch, 1 teaspoon cinnamon, and 2 tablespoons maple syrup.
In a medium-sized bowl, combine remaining ¼ cup maple syrup and 1 teaspoon cinnamon, almond butter, vanilla, and salt and mix until combined. Stir in almond flour and oats until a crumbly texture forms. Scatter this oat crumble over the cranberries and apples.
Bake for 35-40 minutes, until the apples are soft and the crumble is lightly browned.
Yields 12 servings
Per serving: 164 calories, 4 g protein, 26.8 g carbohydrates, 4.1 g fiber, 13.5 g sugars, 5.5 g fat, 0.5 g saturated fat, 0 g trans fat, 0 mg cholesterol, 63 mg sodium, 53 mg calcium, 0 g omega-3 fats, 31 IU vitamin A, 4.9 mg vitamin C, 2.3 mg vitamin E, 0.7 mg iron, 0.4 mg zinc