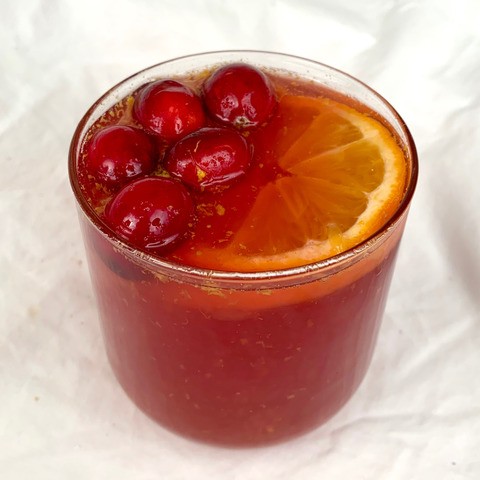 Recipe:
Tart cranberries and citrusy orange are a delightful flavor combination and make for a delicious and festive cocktail. Oranges are a great source of vitamin C, which is important for smooth skin, clear eyes, and healthy gums. And cranberries are loaded with anti-aging antioxidants!
Ingredients:
1 1⁄2 cups cranberry juice
1⁄2 cup orange juice
2 oz vodka
Optional orange zest, orange slices, and cranberries
Ice, if desired
Instructions:
Combine cranberry juice, orange juice, and vodka and divide between two glasses. Add orange zest, orange slices, or cranberries if desired. Add ice before serving if desired.
Yields 2 servings
Per serving: 167 calories, 0.4 g protein, 32.9 g carbohydrates, 0.1 g fiber, 28.9 g sugars, 0.1 g fat, 0 g saturated fat, 0 g trans fat, 0 mg cholesterol, 19 mg sodium, 7 mg calcium, 0 g omega-3 fats, 124 IU vitamin A, 76 mg vitamin C, 0 mg vitamin E, 0.1 mg iron, 0 mg zinc