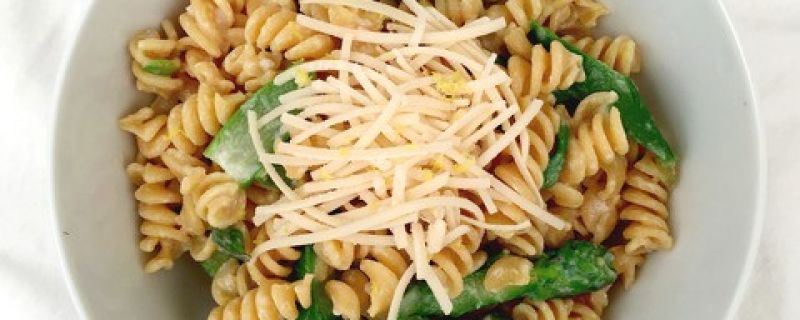 Ingredients:
8 oz chickpea pasta (or whole grain pasta of choice)
1⁄2 lb asparagus, sliced on a bias
1 teaspoon extra virgin olive oil
2 cloves garlic, minced
1⁄2 cup dry white wine or white cooking wine
3⁄4 cup 2% fat milk (or soy milk)
1⁄2 teaspoon salt
1 teaspoon lemon zest
1 tablespoon lemon juice
Optional shredded parmesan cheese, for topping
Instructions:
Bring a medium-sized pot filled with water to a boil. Add pasta and cook for 6-8 minutes, then add in asparagus for the last two minutes of cooking time and then drain. Put the pot back on medium heat and add olive oil. Add garlic and sauté for one minute. Then add wine and milk and simmer for around 5 minutes, until the wine has cooked out and the sauce has thickened slightly. Remove from heat and stir in salt, lemon zest and juice, and the cooked pasta and asparagus. Top with parmesan cheese if desired.
Yields: 4 servings
Per serving: 268 calories, 13.9 g protein, 40.2 g carbohydrates, 6.3 g fiber, 4.4 g sugars, 4.7 g fat, 0.8 g saturated fat, 0 g trans fat, 3.7 mg cholesterol, 534 mg sodium, 117 mg calcium, 0 g omega-3 fats, 516 IU vitamin A, 6 mg vitamin C, 0.7 mg vitamin E, 4.3 mg iron, 0.55 mg zinc