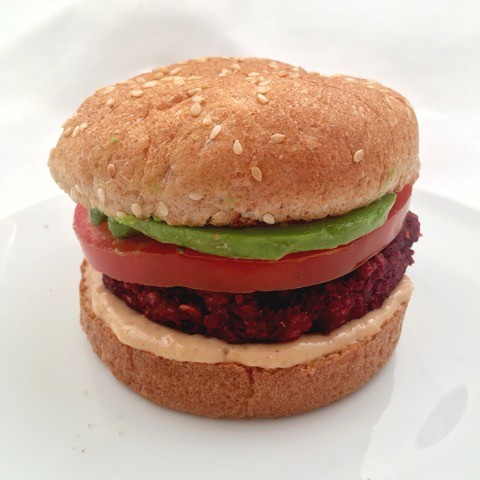 Recipe:
The special sauce is modeled after sauces served at well-known fast food restaurants. It incorporates the flavors of classic burger condiments such as mayo, ketchup, mustard, and relish into a creamy sauce that is low in fat.
Walnuts in the burger contain skin-friendly omega-3 fats, and B vitamins, which aid in keeping skin, hair, and nails healthy. Beauty food walnuts also provide melatonin, which can aid in beauty sleep.
Ingredients:
For the burger:
1 teaspoon extra virgin olive oil
1 medium-sized onion, chopped
3 cloves garlic, minced
1 large beet, grated
4 ounces mushrooms, chopped
3⁄4 teaspoon salt
1⁄4 teaspoon pepper
1 cup cooked brown rice
1 cup cooked green lentils
1 cup walnuts
1⁄4 cup breadcrumbs
For the sauce:
1⁄2 cup silken tofu
1 clove garlic
1 tablespoon spicy brown mustard
2 tablespoons ketchup
1⁄4 teaspoon salt
1 tablespoon chopped dill pickle
1 tablespoon dried minced onion
To assemble the burgers:
6 whole wheat burger buns
Optional lettuce, tomato, avocado, or red onion for topping (not included in nutritional info)
Instructions:
Heat olive oil in a large pan over medium-high heat. Add onion and sauté until slightly browned. Add in garlic and sauté for a few more seconds. Then add in grated beet and chopped mushrooms and sauté until fully cooked and all of the water has evaporated. Season with pepper and 1⁄2 teaspoon of the salt. Add cooked vegetables to a food processor along with rice, lentils, and walnuts. Pulse a few times until everything is well-combined but a few small chunks still remain. Transfer this mixture to a large bowl and stir in breadcrumbs and remaining salt. Chill mixture until it is cool to make the process of shaping the patties easier.
Preheat oven to 375 degrees Fahrenheit and line a large baking sheet with parchment paper. Form the mixture into 6 large, thick patties. It may help to wet your hands before shaping the patties. Place patties on the prepared baking sheet and bake for 30 minutes, flipping halfway through.
For the sauce, combine tofu, garlic, mustard, ketchup, and salt in a blender and blend until smooth. Stir in chopped pickle and onion.
Place each patty on a bun with a few spoonfuls of sauce and optional lettuce, tomato, avocado, or onion.
Yields: 6 servings
Per serving: 420 calories, 16 g protein, 57.9 g carbohydrates, 10.7 g fiber, 9.5 g sugars, 16.56 g fat, 1.55 g saturated fat, 0 g trans fat, 0 mg cholesterol, 902 mg sodium, 131 mg calcium, 0.02 g omega-3 fats, 270 IU vitamin A, 5.5 mg vitamin C, 0.1 mg vitamin E, 6.4 mg iron, 1 mg zinc