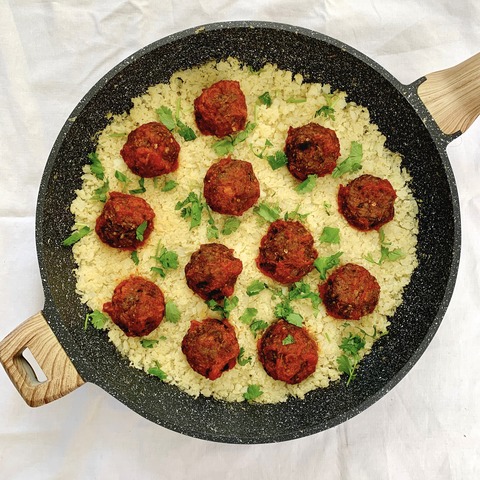 Recipe:
This makeover of a comfort food classic is high in protein, low in calories, and completely vegetarian. Roasted eggplant provides a meaty flavor while bulgur wheat and vital wheat gluten (a flour-like powder that contains almost all gluten and very little starch) mimic the texture of ground beef.
Cauliflower rice is not only a low-calorie rice alternative, but it is also rich in vitamin C, an antioxidant that plays a role in collagen production.
And no meatball dish would be complete without tomato sauce, which is an excellent source of the antioxidant lycopene. Lycopene may help protect skin from aging by reducing risk of damaging sunburn.
Ingredients:
1 large eggplant, chopped
1 tablespoon plus 1 teaspoon extra virgin olive oil
2 tablespoons less sodium soy sauce
1 large onion, chopped
4 cloves garlic, minced
¼ cup plus 2 cups vegetable broth
½ cup dry bulgur wheat, cooked in 1 cup water
1 tablespoon Italian seasoning
½ teaspoon black pepper
1 ½ cups vital wheat gluten
1 large head cauliflower, cut into florets
2 cups marinara sauce
Optional fresh chopped parsley, for garnish
Instructions:
Preheat the oven to 400 degrees Fahrenheit and line a baking sheet with parchment paper.
Toss eggplant with 1 tablespoon of the olive oil and soy sauce and transfer to the prepared baking sheet. Bake for 20-25 minutes, until tender and golden brown.
Add remaining 1 teaspoon olive oil to a small pan and heat over medium-high heat. Add onion and sauté for around 5 minutes, until softened and lightly browned. Add garlic and cook for another minute.
Lower the oven to 350 degrees Fahrenheit. Add roasted eggplant and sauteed onions and garlic to a food processor with ¼ cup of the vegetable broth and blend until smooth. Transfer this mixture to a large bowl and add cooked bulgur wheat, Italian seasoning, pepper, and vital wheat gluten. Mix until fully combined– the gluten should activate and leave you with something that feels like a dough. Roll the dough into golf-ball sized spheres and place on lined baking sheet (you can just re-use the baking sheet used for the eggplant). Bake for 30-35 minutes, until firm and golden brown.
Add cauliflower florets to a food processor and pulse until you are left with a rice-like texture. Add this cauliflower "rice" to a large skillet along with the remaining 2 cups vegetable broth and cook over medium-high heat until all of the liquid has evaporated and the cauliflower is tender.
Pour marinara sauce over the eggplant meatballs and serve meatballs over cauliflower rice. Top with fresh chopped parsley, if desired.
Serves 6
Per serving: 324 calories, 37 g protein, 33.5 g carbohydrates, 6.9 g fiber, 10.1 g sugars, 5.5 g fat, 0.7 g saturated fat, 0 g trans fat, 0 mg cholesterol, 689 mg sodium, 90 mg calcium, 0.1 g omega-3 fats, 588 IU vitamin A, 55.6 mg vitamin C, 2.2 mg vitamin E, 3.2 mg iron, 0.8 mg zinc