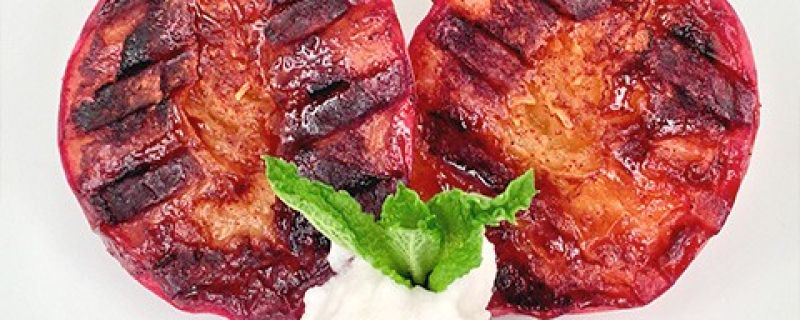 Ingredients:
3 ripe large peaches, sliced in half and pitted
1 tablespoon brown sugar
3⁄4 teaspoon ground cinnamon
1
13.5 oz can full-fat coconut milk, refrigerated overnight
1 tablespoon powdered sugar
1⁄4 teaspoon vanilla extract
Optional mint, for topping
Instructions:
Brush each peach half with 1⁄2 teaspoon brown sugar and 1⁄8 teaspoon cinnamon. Heat a grill pan or sandwich press to high heat and place peach halves facedown. Cook for around 5 minutes, until peaches are soft and have grill marks.
Scoop the hardened coconut cream from the top of the can of coconut milk into a medium-sized bowl (it will be around 1/3-1/2 cup). Whip with an electric beater until smooth and fluffy, adding liquid from the can of coconut milk if needed. Add powdered sugar and vanilla extract and beat again. Once peaches have cooled, serve with coconut whipped cream and mint if desired. Do not place coconut cream on warm peaches–it will melt!
Yields: 6 servings
Per serving: 174 calories, 2.1 g protein, 13.7 g carbohydrates, 1.4 g fiber, 10.3 g sugars, 13.8 g fat, 12.1 g saturated fat, 0 g trans fat, 0 mg cholesterol, 8 mg sodium, 20 mg calcium, 0 g omega-3 fats, 286 IU vitamin A, 6.4 mg vitamin C, 0.7 mg vitamin E, 2.4 mg iron, 0.5 mg zinc