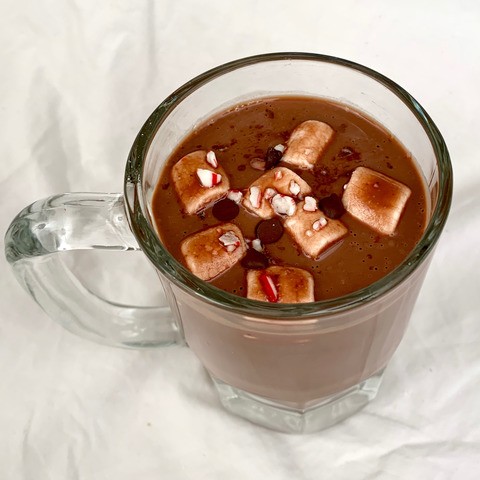 Recipe:
There is nothing like a warm mug of hot chocolate on a cold and snowy day. Cooling peppermint adds wintery flavor and pairs perfectly with rich cocoa. Hemp milk is made from hemp seeds, which are a great source of omega-3 fatty acids. Omega-3s are important for glowing skin, shiny hair, and bright eyes. And peppermint has healing properties that may aid in soothing stomach pain and nausea, relieving headaches, and clearing congestion.

Ingredients:
2 cups unsweetened hemp milk (or milk of choice)
2 tablespoons cocoa powder
2 tablespoons maple syrup
1⁄8 teaspoon peppermint extract
Optional mini marshmallows, mini chocolate chips and crushed candy canes, for topping
Instructions:
In a small pot, heat milk over medium-high heat until it starts to steam. Lower heat to low and whisk in cocoa powder, maple syrup, and peppermint extract. Remove from heat and pour into two mugs. Top with mini marshmallows, mini chocolate chips, and candy canes if desired.
Yields 2 servings
Per serving (without toppings): 115 calories, 3.1 g protein, 17.5 g carbohydrates, 2 g fiber, 12.2 g sugars, 5.8 g fat, 0.4 g saturated fat, 0 g trans fat, 0 mg cholesterol, 99 mg sodium, 327 mg calcium, 0.8 g omega-3 fats, 0 IU vitamin A, 0 mg vitamin C, 0 mg vitamin E, 0.8 mg iron, 1.7 mg zinc